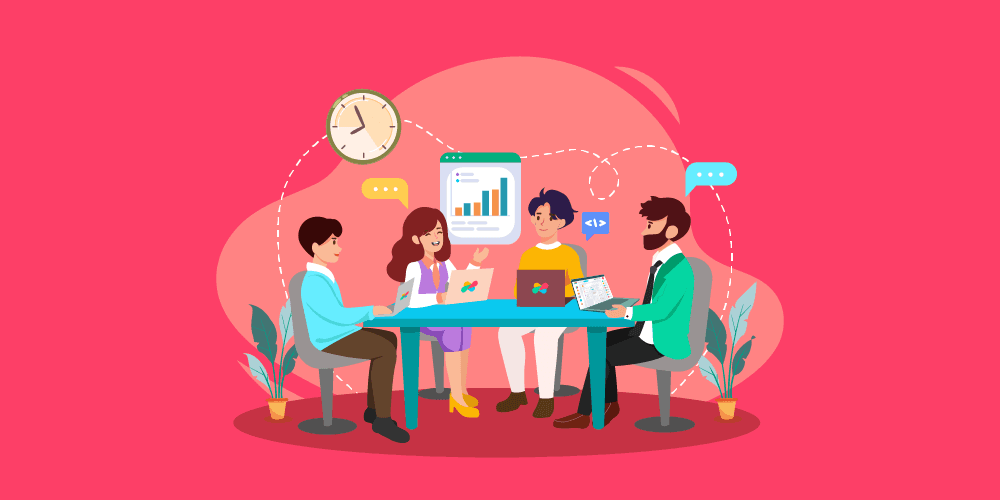 In the current age of virtual and hybrid work, it is necessary to hold meetings to monitor employees' well-being and make corporate processes operate smoothly. Team efficiency and productivity are built on good communication. As a result, an increasing number of businesses are seeking meeting management software that would give structure, cultivate transparency, promote good communication, and enable teams to lead effective meetings.
Meeting Management is often concerned with the tasks that enable cooperation and communication. It includes capabilities for meeting scheduling, communication, and detailed reporting. Trying to set up a proper, online conference might be difficult when you have staff members who are working in different locations. In this article, we will discuss what is meeting management software, its benefits, and the top software packages currently available on the market.
What is Meeting Management Software?
Meeting management software is an excellent tool to guarantee that your meetings go as planned. It can assist you in organizing, scheduling, and managing meetings. It also serves as one of the most essential meeting solutions.
Meeting management software will assist you in organizing your meetings. It will inform you when the number of individuals is anticipated to participate in a meeting.
Continue reading to see why meeting management software will enrich and elevate the way your employees perform on a daily basis.
What are the Benefits of Using it?
Now that you've gained a clearer understanding of why you should want to add meeting management software to your business, let's look at some of the advantages.
Data Management
The advantage of employing meeting management software is that it can help you make sense of enormous volumes of data and information. Gathering and keeping data in management solutions is far better than trying to do it on your own since it allows you to comprehend the intricacies of project status, performance metrics, and projections.
Improved Security
Cybersecurity is an essential component of any firm, regardless of sector. As a result, it's typical to be anxious that important or secret papers may be lost, forwarded to the wrong person, or lost completely.
When meeting software is being used, you can control who has access to the information stored in the cloud and add extra security features to prevent sensitive data from being accessed by the wrong people.
Planning
Meeting management software can assist you in taking your preparation to a whole new level by utilizing intelligent organizing functions. A management tool will assist you in assigning and allocating duties, estimating the time required to finish each job, and tackling activities in order of importance. Ultimately, this will make it easier to handle several tasks all at once.
Effective Communication
The program will aid in more honest and open communication with your group members. Every tool employs a unique communication strategy to ensure that communications among you and members of the team are authentic.
Enhanced Collaboration
When holding meetings among departments, everyone can interact and participate in a productive meeting. Once this happens, your meeting will become an inclusive environment in which all attendees are fully engaged, have detailed discussions, and raise relevant questions.
List of Top 10 Meeting Management Software in 2022
The following is a list of the best meeting management software on the market in 2022. We'll also include the features provided and a detailed description of each software underneath.
Businesses with a worldwide workforce continue to embrace Skype as the finest and most cost-effective solution for meeting management and digital communication.
One of the finest features of the software is the whiteboard capabilities, which allows users to display their thoughts more efficiently and precisely to their viewers.
Up to 100 participants can participate in video or audio meetings. The program is compatible with all of your devices, including your mobile, laptop, browser, and more, helping you to be active wherever you are.
Key Features
· You can now employ auto-cropping and facial tracking to improve the visuals.
· You may read live subtitles which indicate what other participants are talking throughout the conference whether you're participating in a group or an individual conference.
· When communicating with someone regarding sensitive material that has to be kept private, you can rely on its enhanced end-to-end encryption.
· Instant chat and comment sharing among all meeting attendees.
When you say "all-in-one video conference solution", many businesses use Zoom. It's built for video meetings and has a number of tools that may assist you to maximize the value of your meetings.
Zoom makes it simple to keep a record of your virtual meetings, integrate them with your Google calendar, and schedule meetings from any location in the world.
Key Features
· Create planned High definition audio or video meetings using pre-programmed options that take place at the same time.
· The application integrates with a variety of third-party programs.
· The meetings can accommodate up to 1000 participants.
· Screen sharing allows participants to effortlessly follow lectures while also contributing annotations alongside.
· There are Android and iOS mobile applications available.
Microsoft Teams is a younger newcomer in the meeting management software market, however, it has swiftly created a reputation for itself within a few years. Because it is free software, you have no reason not to utilize it.
It is an effective tool for carrying out tasks at home, in business, or in school. It enables you to stay in touch and readily access shared knowledge, allowing you to develop, organize, and learn alongside your team.
Try Edworking for free
Key Features
· Excellent audio and visual quality
· This application allows you to provide file attachments and get comments from all conference attendees.
· Multiple users can discuss and contribute ideas by using the digital whiteboarding feature.
· Meeting rooms specialized for granular, segmented conferences
· Compatibility with several add-ons and applications
· Designed to be quick and simple to use
Lucid Meetings is a web meeting room that simplifies the creation and facilitation of meetings. Lucid Meetings is intended for meeting organizers, remote employees, and virtual teams.
The application is easy to use because it includes thorough directions for starting up video and audio conferencing. With speaker queues, you may allocate key actions and follow-ups to keep meetings on track and avoid overlapping topics.
Key Features
· The ability to store meeting recordings in various formats.
· The user interface is intended to be simple to comprehend and use, allowing you to get started fast without any coaching or assistance.
· Create an infinite amount of rooms for meetings, sessions, and other types of events.
· Tools for transcribing audio and recording calls are included.
If you often host board meetings or executive meetings, a service like Boardable may be quite beneficial. This is a tool that will assist you in running more effective meetings and getting more value from them.
Boardable offers a simple platform for managing both in-person and virtual meetings. All necessary agendas may also be shared.
Key Features
· Boardable provides solutions to assist you in streamlining your meeting process and saving time, money, and energy.
· Dedicated to the creation of plans
· Document Center helps make document management simple and straightforward.
· Goal tracking and evaluation
· Innovative reporting methods
nTask is an awesome meeting management solution that may help you keep in contact with your workmates or team members to discuss assigned duties or the project development pipeline that you're working on. It is among the greatest project management and task management products on the market.
You can guarantee that all workers are not just on the right page in regards to achieving essential goals, but you are able to also monitor their progress and ensure efficiency through active job completion.
Key Features
· You may use Kanban boards to manage your operations for continuous deployment and greater productivity.
· Risk management ensures that all hazards and scope creeps in your project are identified and eliminated.
· Time monitoring to ensure that all of your duties and meetings with your group members are properly recorded and that every task is completed on time.
Fuze is a prominent supplier of cloud-based communications services that assist businesses to revolutionize the way they work and interact.
Even with a gathering of 1,000 people, the high-quality audio and video capabilities runs smoothly. It is among the least-priced solutions, yet it still provides many features comparable to more-priced applications.
Try Edworking for free
Key Features
· It is a safe, simple, and cost-effective software that enables you to access your data anywhere around the world.
· Perfect for all types and sizes of businesses
· There are no file size limitations for shared files.
· Increase corporate efficiency by eliminating the necessity for your group to manually synchronize data, execute administrative duties, or move between applications.
WebEx is a meeting management software solution designed to assist bigger businesses in hosting efficient meetings. Your company may use the technology to organize high-quality video conferences with no limit on the number of attendees.
Cisco WebEx provides a variety of solutions and services to meet the needs of small enterprises, corporate personnel, and large organizations.
Key Features
· Content and experiences that are personalized, with a uniform appearance and feel among all devices, platforms, and browsers
· Simple and quick document sharing
· Whiteboarding, chat, polling, file sharing, and other collaboration features are built in.
· Accessibility between PC, Mac, iOS, and Android platforms
HubSpot Meetings is ideal for users who only want a simple organizer and calendar tool to remind them of scheduled meetings. You can also utilize its appointment scheduling tool to automate your sales activities. As a result, its numerous features will enable you to improve and automate different procedures.
Key Features
· It has a good user interface, particularly with the personalized Booking Link
· The round-robin scheduling feature may be used to host meetings depending on the participant's availability.
· The simple, no-code calendar can also be incorporated on your webpage or sent as an email link, making it easier for users to plan meetings.
Edworking
Edworking is an all-in-one platform created specifically for remote work. It's simple to use and assists you in organizing your chores or projects by providing a fast overview of your to-do, ongoing, and finished tasks. It allows you to organize your work easily and intuitively, and it allows you to interact with your team members no matter where they are on the globe. Edworking eliminates the need for a third-party chat or video conferencing platforms. Within the task function, you can simply exchange and download files as well as talk with your colleagues.
Key Features
· iOS and Android device compatibility
· The user interface is beginner-friendly
· Keep everyone up to speed by generating, modifying, and keeping all of your Docs in one place.
· By having distinct chats for each of your spaces, projects, and team members, you can keep organized and focused.
· The video call feature is integrated into chat and may be used in both private and group discussions.
· Keep all of your data in one secure location.
Conclusion
Meeting management software is an essential component of running a successful business. Your knowledge level and specific requirements may influence whatever software application you select. However, if you want free software with all the features of pricey software, I encourage you to try Edworking right now.