Working remotely has become the new normal for both companies and individuals. Companies have grown more adaptable to remote working as their demands and trends had also changed. Companies have grown more productive, efficient, and innovative as a result of the shift from office to remote employment.
Although remote work provides a flexible workplace, it inhibits communication and cooperation within a group. Remote working has an impact on meetings, mind-mapping exercises, and group brainstorming activities. Working from home, as a result, limits the potential and productivity of such meetings.
This is where the digital whiteboard comes into play, so what is a digital whiteboard you ask? Digital whiteboards are a collaborative virtual place where teams may not only discuss fresh ideas but also collaborate on the same software to increase team coordination and build action plans. Through capabilities such as freehand sketching, adding lines and shapes, and a limitless canvas, these tools foster creativity and stimulate innovation, helping employees to more readily produce ideas that propel the organization ahead.
What is Miro?
Miro is the most well-known mind-mapping program on the market today. It is simply a virtual whiteboard for remote employees, particularly in a corporate or team situation. It enables distant teams to collaborate on an endless canvas at the same time. Miro really stands out with features like:
Miro's detailed view canvases and whiteboards enable teams to concentrate on creativity rather than the limitations of the application.
Miro delivers digital whiteboards to allow real-time collaboration, whether a team is in the same office or scattered across the nation.
Miro connects to current tools such as Google Suite, Slack and Slack, and Dropbox.
Their whiteboard tools include a number of compliance features and security safeguards in place to keep information and members secure.
Unleashing Creativity: The Pros of Miro
Miro has some seriously impressive features that boost productivity and unleash the creative potential of your team. Let's take a look at a few:
Intuitive Interface
Miro's simple, yet powerful interface makes it easy for users to jump in and start working without feeling overwhelmed.
Endless Canvas
Say goodbye to space constraints! Miro offers an infinite canvas, allowing teams to work on expansive projects without running out of room.
Real-Time Collaboration
Collaborate seamlessly with teammates from around the globe, thanks to Miro's real-time updates and handy version history.
Integration Galore
Miro plays well with others, integrating effortlessly with popular tools like Slack, Google Drive, and Trello.
The Flip Side: Miro's Cons
No tool is perfect, and Miro is no exception. Here are some potential drawbacks to keep in mind:
Pricing
While Miro offers a free plan, its limitations might not be enough for larger teams or more complex projects. Paid plans can be a bit pricey for smaller organizations.
Learning Curve
Although Miro's interface is intuitive, mastering the full range of features can take some time. Are you ready to invest in training your team?
Internet Dependency
Since Miro is a cloud-based platform, it relies heavily on internet connectivity. If your team often experiences connectivity issues, it might hamper your workflow.
Top 10 Miro Alternatives
Miro is intended for teams who require a functioning digital collaboration tool that allows them to develop, explore, and brainstorm – and it accomplishes that objective well.
However, we have provided you with a selection of additional competitive choices. These choices will allow you to examine and compare the variations in the tools so you are able to select the ideal one for you.
LucidSpark
Alternatives to MIRO include LucidSpark, which offers improved whiteboard use for remote brainstorming. The tools and capabilities enable users to create, draw, change, and share many forms of images and text. Users may communicate, leave text and emoji comments, collaborate on a shared board, and even store notes and documents on the drive.
Key Features
Assists you in turning your thoughts into actions.
Use colors and forms, as well as visual diagramming.
Templates with modification possibilities were also provided.
Pros
Many common project management techniques, such as time monitoring, help to maintain the creative impetus.
There is no need for downloads because the online board is available for all operating systems and browsers.
Cons
To see your ideas through the complete project lifespan, you'll need to invest in additional software or combine Lucidspark with another application.
HTML, CSV, and XML outputs are not available.
Pricing
Free
Individual: $7.95 per month
Team: $9 per month
Enterprise: You need to contact LucidSpark for pricing
ClickUp
ClickUp has sophisticated Whiteboard tools to assist you in graphically planning and organizing ideas, activities, workflows, and much more. Its drag-and-drop capability makes it simple to create workflows, organize ideas, and graphically assign responsibilities to teams.
Key Features
Each team member's involvement is displayed.
The Mind Maps function allows you to visualize ideas and projects.
In Tasks mode, you can easily add, remove, and amend tasks, as well as establish relationships among them.
Pros
The free version has a lot of features.
Offline Mode allows you to work without the need for internet access.
Cons
It might be difficult for new users to understand.
Occasionally encountered an issue when creating a new list and was unable to locate any explanation regarding the error online.
Pricing
Free
Unlimited: costs $5 a month
Business: costs $12 a month
Business Plus: costs $19 a month
Enterprise: Custom pricing
ConceptBoard
ConceptBoard has sophisticated collaboration tools that include video and voice calling. Furthermore, users can enable screen sharing to assist in the conversation. The pricing range, however, distinguishes it from the other Miro choices. Considering their reputation, it is reasonable to expect them to demand a high fee for their services.
Key Features
Provides a comprehensive summary of every activity.
Commenting for better communication is supported.
Different features are offered for various users.
Pros
The user interface is simple and clear.
Password-protected URLs are used to share whiteboards.
It supports video and audio calling, as well as screen sharing.
Cons
The total capacity space available is 500MB for free users.
Only a few integrations are supported.
Pricing
Free
Premium: costs $6 a month
Business: costs $9.50 a month
Limnu
Limnu, the most popular of the simple MIRO alternatives, offers remote collaborative meetings to share, create, and discuss on an online whiteboard. Aside from MIRO, you may use virtual meetings and record live meetings. The administrators have total control over the sessions, including the ability to allow or deny access to various participants.
Key Features
Can collaborate together on the same board or independently.
Up to eight people can participate in a video conference.
Limnu is as simple to use as grabbing a pen and drawing.
Pros
Session recording is available.
Gives instructors a lot of flexibility when speaking to a small group.
Excellent for students of almost any level of education.
Cons
For classes or team planning sessions, eight people are quite low.
Does not export the board or documents to other formats such as PDF or JPG.
Pricing
Free
Pro: costs $5 a month
Team: costs $8 a month
Enterprise: contact Limnu for pricing
API: contact Limnu for pricing
Ziteboard
It's one of the greatest MIRO alternatives since it offers endless working space, allows several participants from different places to collaborate, and engages each participant in an engaging meeting. Everyone may collaborate on a shared board to create, write, and share material.
Key Features
Additional participants can join your board anonymously.
The presentations and sessions are available for download as PNG pictures or PDF files.
The host has the ability to initiate audio/video conversations.
Pros
There are several options to communicate your thoughts, including import and export, and presentation.
Sticky notes are provided for convenient writing.
Cons
In comparison to competitors, the free plan is limited.
To keep refining your ideas, you will want more applications or powerful integration.
Pricing
Starter: Free
One week Pro: costs $5
Monthly Pro: costs $9 a month
Annual Pro: costs $85 a year
Enterprise: contact Ziteboard for pricing
Mural
Mural is another excellent option for Miro on this list. It's a collaboration tool wherein your team can collaborate in real time and benefit from a variety of communication tools such as text chat, commenting, sharing, and so on.
Key Features
Freehand drawing is available
Improve your meetings more visually appealing by using drawings, maps, flowcharts, and other visual elements.
Super lock keeping whiteboard items in place while you move them over.
Pros
Has a huge team-ready enterprise solution
It is compatible with Microsoft Teams, Azure DevOps, and Asana.
Cons
Due to the large number of features, it is difficult to learn.
Small firms may find it costly in comparison to competitors.
Pricing
Starter: costs $12 a month
Plus: costs $20 a month
Every Microsoft working domain, such as Office 365 and Teams, may activate the whiteboard in video conferencing, both through the downloaded form and through the web. This is equally as good as the MIRO digital board since it accommodates both video conferences as well as in-class projections with a variety of premium features and capabilities.
Key Features
Sticky notes can be added and edited.
Documents can be added to your whiteboard.
Pros
All Microsoft online platforms are directly enabled.
Android and iOS devices are supported.
Cons
Web browser users cannot access whiteboard templates.
Signing in to the whiteboard requires a Microsoft account.
Pricing
Business Basic: costs $5 a month
Business Standard: costs $12.50 a month
Business Premium: costs $20 a month
Google Jamboard
Google Jamboard is a great digital whiteboard that allows people to convey ideas and exchange data both physically and electronically in meetings and courses. It emphasizes usability characteristics that make it easy to take notes, present ideas and explain concepts as though on a real whiteboard.
Key Features
May build public boards and exchange board links with team members
Anyone may access and modify anonymous boards, and they can be changed into team public boards.
You can assign different roles to each member.
Pros
A basic drag-and-drop editor that allows you to brainstorm, take notes, and create basic mind maps.
Hand Tool allows you to move the board around just to focus on a section where you need to add more sketches to expand your ideas.
Cons
Simple discussions and training sessions are muddled by the complicated business-level structure.
The price is quite high compared to other alternatives.
Pricing
Free
Solo: costs $9 a month
Team: costs $8 a month
Business: costs $10 a month
Enterprise: custom pricing
SketchBoard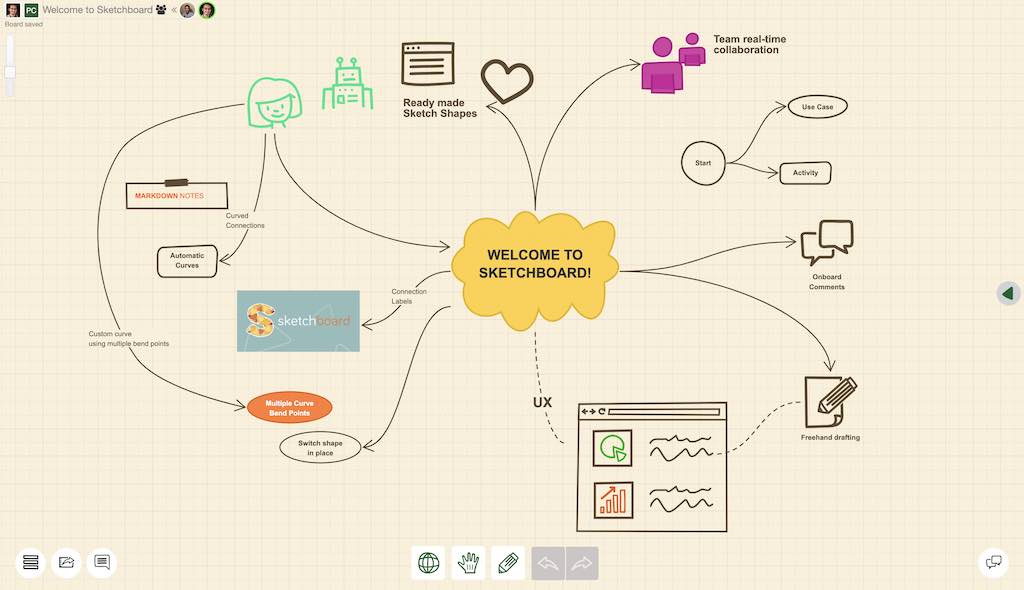 SketchBoard offers real-time Slack networking, virtual collaboration, and magnificent artistic tools for data creation and sharing. The whiteboard features several themes and painting styles that are powered by clever recognition to create creative strokes from raw designs. This free digital whiteboard service can quickly create AWS and UML architecture diagrams as well as visual charts.
Key Features
If you already have a Google account, you can get started with Jamboard.
Different backgrounds are available for your Jamboard.
With the accompanying stylus, you can write and draw in real time.
Pros
Using Jamboard in conjunction with Google's other services expands its potential.
Intelligent features such as handwriting recognition and form detection are available to collaborators.
Cons
Jamboard is a relatively rudimentary tool on its own; other tools are needed to make it even more effective.
There is currently no video or sound enabled to bring onto the whiteboard.
Pricing
Free
Business Starter: costs $6 a month
Business Standard: costs $12 a month
Business Plus: costs $18 a month
Enterprise
This online digital whiteboard tool allows for chat and phone interaction. The program is generally suited for classroom education, virtual meetings, and video creation. Users may create, share, and design on the shared platform, or even transfer the result to files or emails.
Key Features
Record your whiteboard sessions on video.
Include narration in the screencasts.
Make your own clipart.
Pros
Compatible with a variety of Android and iOS operating systems
Templates for dragging and dropping are supplied.
Cons
The free edition has restricted functionality.
Sudden system changes might cause delays and obstructive actions.
Pricing
Free
Individuals: costs $6.99 a month
Teams: costs $11.99 a month
Conclusion
Mind mapping tools like Miro are excellent and entertaining methods to interact and produce ideas. The 10 Miro alternatives discussed above may assist you in fast gathering those valuable thoughts and smoothly collaborating with your coworkers. It is preferable to utilize these applications over traditional ones since they do not require everyone to be present in the room while having meetings or brainstorming meetings. The application you will choose will totally depend on your personal preference for what best matches your needs.