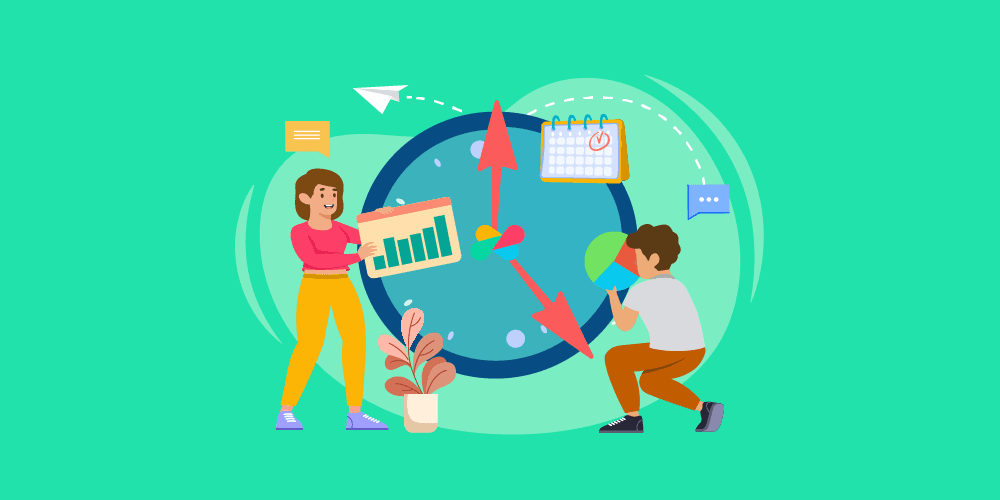 We now live in a time when remote work is more prevalent than ever. This means that most of us are not spending every day in the office, but instead, we're logging in from home or our laptop, as the case may be. As such, a lot of our communication and collaboration happens online. But that doesn't mean we're not still bound by the regular communication and collaboration tools. This post will look at the top 6 project management tools today.
Previously, companies used project management tools for designers, project managers, and business owners. With the onset of the internet, telecommuting, freelancing, and the recent pandemic, project management tools for remote teams became sought-after.
If you work from home frequently or want to get more organized and stay on top of things, project management tools are a great way to get your workflow in order.
What is a Project Management Collaboration Tool?
Project management tools are a toolkit of the many different pieces of software you'll need to manage your team and the tasks assigned to them, whether on or off-site.
Using the right software, project managers can create and manage tasks, track time, plan projects, and manage all aspects of project management.
They're great for collaboration and communication, so many teams use them. However, it eventually evolved into a project management tool that would fit into just about any context.
A good project management tool is helpful if it helps project managers stay organized and on top of things.
When it comes to software, you have a myriad of choices in managing your remote team. Your level of experience managing remote teams determines the best project management tool that suits you. The question is, which among them is the best?
We found an all-in-one project management solution for you, but first, let's look at the most popular ones in the market.
Project Management Software for Startups
A project management software is a tool that helps teams plan, organize, and manage projects effectively. It typically includes features such as task management, team communication, file sharing, and progress tracking.
Project management software can be used for a variety of purposes, including software development, marketing campaigns, and event planning. It can help teams stay organized, meet deadlines, and collaborate effectively.
There are many different project management software options available, each with its own set of features and pricing plans. It's important to choose a tool that meets the needs of your team and is easy to use.
Why should startups use it?
Startups can benefit from using project management software in a number of ways. Here are a few reasons why it can be helpful for startups:
Improved organization: Project management software can help startups stay organized and manage tasks effectively. It allows teams to create, assign, and track tasks within a project, and helps ensure that deadlines are met.
Enhanced collaboration: Project management software includes tools for team communication and collaboration, such as chat or video conferencing. This can help startups work together more efficiently and effectively, regardless of where team members are located.
Increased transparency: Project management software allows startups to track progress and see how far along a project is. It can also help identify
any potential issues or roadblocks that need to be addressed.
Reduced risk of project failure: By using project management software, startups can better plan and manage projects, which can help reduce the risk of project failure.
Overall, project management software can help startups stay organized, collaborate effectively, and manage projects successfully. It can be a valuable tool for startups looking to streamline their operations and increase productivity.
Top 6 Project Management Tools
The best project management tools meet your needs and those of your team. Below, we've included six of the best project management tools for remote teams. We chose these project management tools because they are highly rated, have solidly-built integration, and are simple.
Clickup
ClickUp is an all-in-one business app for any size team or business. It's a business application that combines essential services and integrates them into a single, centralized online solution.
You can assign tasks to team members, manage projects for clients, and collaborate with colleagues on documents on the ClickUp online platform.
This simple work productivity app allows you to view work items and data in different views for better understanding and faster tracking. Choose from list view for to-dos, board view for workflows, box view for dashboards, or Gantt view for project schedules. It gives you a calendar, activity, mind maps, workload, and map views.
With its many customizable features, you can customize the workspace, description of your work, colour scheme, and selection of functions.
Try Edworking for free
Pros and Cons of ClickUp:
New teams can easily set up a ClickUp account and use all the features. It's similar to using any social media platform, so the learning curve is relatively low. All ClickUp features can be accessed from a member's phone, making it easy to collaborate. There are many features that ClickUp has for users who want to modify their software. If you need a custom version for your business, that's what you'll get. It can be a con if too many options are available to you. Some users don't know what the empty spaces and panes are for. The colours are too faint to give a proper contrast, and the text size is too small.
Asana
Asana is an easy-to-use project management tool that helps teams collaborate and complete projects.
Asana's timeline feature lets you see exactly how much time your project has left. You can also manage tasks and files and collaborate with your team. You can view the progress of your projects and tasks and track the progress of each job in the project. You can add, remove, and reorder tasks in the timeline.
Pros and Cons of Asana
Asana is an intuitive task management tool with an archiving function.
Creating a project timeline helps to have a clear view of all the critical steps, phases, activities, milestones, and deadlines involved in your project. With a bit of practice, setting up Asana can be a breeze. Its interface is also very intuitive. Finally, it has task allocation tools that help managers with workload distribution across various teams.
For most project managers, the free version is sufficient to get started, and it includes a plethora of features. If your team works with heavy graphics, this might not be the perfect tool for you.
Taskade
Taskade is an easy-to-use project management tool. It helps individuals and teams work together more efficiently. It's a great way to organize projects and track their status.
Taskade is a powerful, all-in-one productivity app that helps you organize and be more productive at work. You can find Taskade on the web, iOS, Android, Mac, and several browser extensions for Chrome and Firefox.
Taskade is for anyone who wants to stay organized and have their work done. It allows you to collaborate remotely, in real-time.
Taskade is excellent for individuals who want to stay on top of their to-do lists and deliverables and is a perfect tool for freelancers, virtual assistants, bloggers/vloggers, podcasters, small business owners, remote teams, and agencies.
Pros and Cons of Taskade
Taskade is an excellent tool for helping you to see what you have left to do and what's coming up. It's intuitive and easy to use.
Multi-user support allows for better collaboration, group projects, or jobs that require more than one person to complete. You can comment on an item too.
On the downside, Taskade requires an internet connection; this includes the mobile apps, which can be a pain if you are on a flight and need to access your tasks. You cannot move tasks between lists. It's harder to manage large projects as you can't drag tasks between lists.
Monday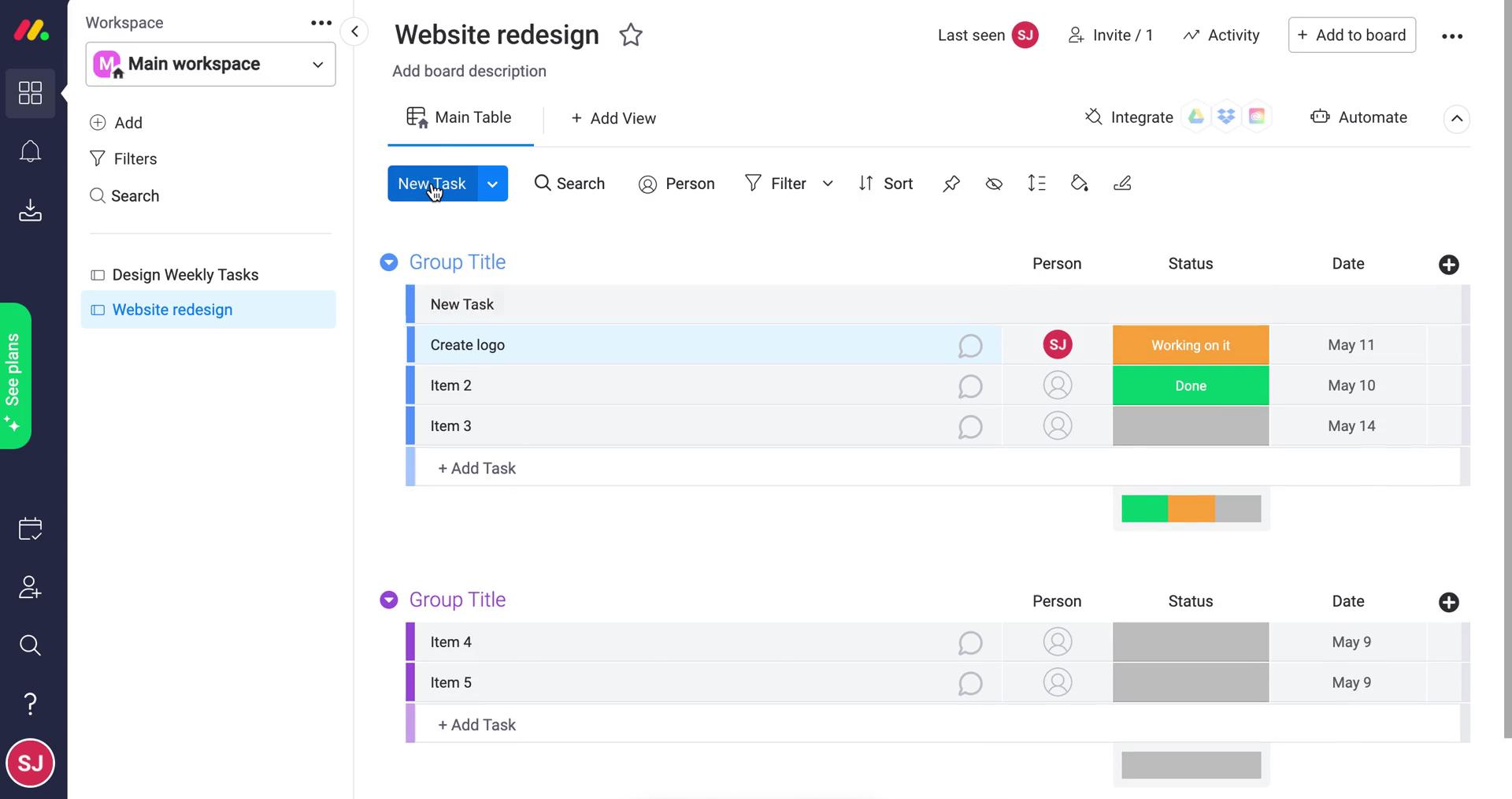 Monday.com is a task management tool that's smart, easy to use, and accommodates different kinds of data: status, text, people, timelines, dates, tags, numbers, and many others.
Look no further than TeamTime if you're looking for a way to manage your team effectively and efficiently without using a time-consuming spreadsheet. It's the most effective way to manage a team with a Gantt view.
Monday.com has a fun platform and an extensive library of tutorial videos for everyone from beginners to advanced users. It also has a free plan with a limit of 2 users.
Pros and Cons of Monday
It's an intelligent tool that works well with big and small teams for tasks, projects, and deadlines management. The project management tool is easy to use and has a modern design. You can use the Gantt view to keep track of your projects and tasks. Monday can be expensive if you have a big team. Its tracking feature feels lacking.
Try Edworking for free
MS Teams
Microsoft teams put all your apps in one place. It has everything you need from messaging, conferencing, and file sharing. If you like the combination of Zoom and Slack, you'll like MS Teams because they did a great job combining both software.
If you have a team-based workflow that uses the Microsoft ecosystem, you'll find that MS Teams integrates well with it; from day-to-day business operations to product management to social media marketing apps, effectively saving you time from switching between different software to get things done.
Its conferencing feature is robust - from its virtual backgrounds, screen sharing, whiteboarding, hand-raising, and more!
Pros and Cons
MS Teams offers a highly reliable communication service, not to mention the high quality of the video and audio during video conferencing. It's flexible enough to run on various operating systems, whether the internet connection is excellent or poor.
Security is one of Microsoft's strong points, so rest assured that your data is safe if you're using MS Teams.
Of course, MS Teams is not perfect. The navigation is not user-friendly, so you need to have a specific technical ability to use it comfortably. You'll be clicking on several tabs to look for something at particular points. Also, the chat functionality seems lacking compared to Slack, which offers superior features for group chats, chat history backup, and many other features that you will not find in MS Teams. Finally, you need a good amount of RAM and processor speed if you want your experience with MS Teams to be flawless.
And finally:
Edworking
Edworking is a simple, easy-to-use remote team and project management platform. It is the first platform focused on managing people who work remotely.
There are many platforms where you have to use multiple software to communicate with your remote team. Edworking is a single platform that includes everything you need to create a unified collaboration experience with your remote team.
It's a great tool to help you manage daily tasks. With the right scheduling, you can get organized, track tasks, and share tasks with teammates
You can take advantage of their in-platform chat, video call, and stories for a more efficient and quicker way to get things done.
You can expand your team to 200 plus Edworkers at an affordable price of £5 per member per month.
Edworking.com is aware that communication is at the heart of project and remote employee management. It's why Edworking.com created incredibly feature-packed, robust communication tools that are certain to benefit your entire team. You can find them all right here.
Advantages:
- Free to try, with affordable pricing of £5 per month.
- The free version comes with 200MB storage, limited video calls, unlimited tasks
- Available in iOS and Android App
Disadvantages:
- If you have a large team, the product can be expensive.
Conclusion
With so many different platforms to choose from, it's easy to get confused. However, select Edworking if you:
- Need a simple, easy platform to use that can grow with you.
- Need a platform focused on managing people who work remotely in the most productive way.
- Need a flexible platform to run on various operating systems, whether the internet connection is excellent or poor.
- Need a platform that can save you precious time from switching between multiple apps.
If you are interested in finding out how Edworking can help you manage your projects and remote teams, visit their website and register for an account at edworking today!