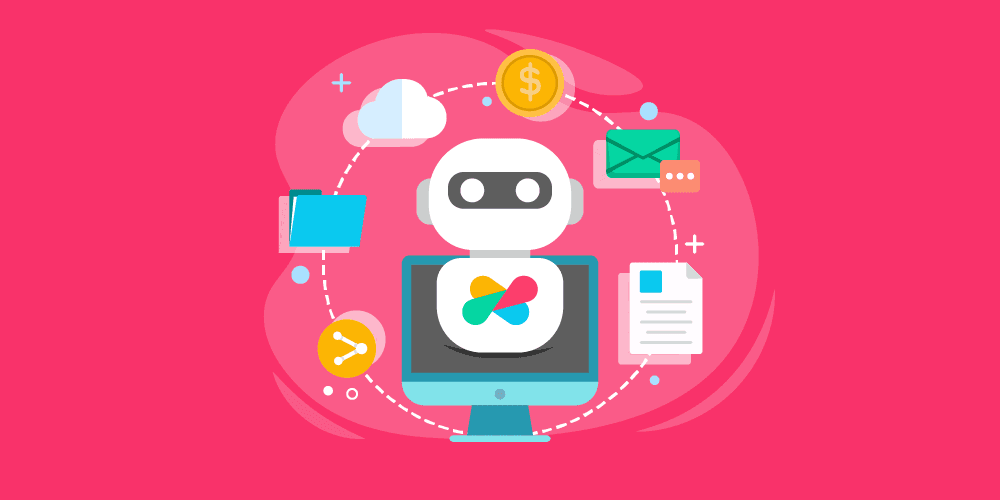 In our daily life, there are numerous examples of automation. Automation transformed the production and industrial areas, and it is now revolutionizing highly skilled jobs and the corporate world as a whole.
As a company owner, you're usually looking for strategies to minimize time-consuming duties. The day-to-day includes recurrent duties that consume a significant amount of time, such as planning meetings, analyzing documents, creating social media postings, and assigning tasks. By automating these repetitive tasks, you can save your team a lot of time.
You'll discover everything there is to know about task automation, how it benefits different types of businesses, and how it can improve your team's productivity.
What is Task Automation?
Task Automation is the process of using software to execute work tasks. Task automation boosts workflow consistency and precision while also enabling more effective management. Above all, task automation eliminates manual procedures and reduces the amount of effort necessary to deliver a certain output.
Businesses will use task automation to boost or streamline procedures and business operations. It also eliminates the busywork component, which can lead to burnout and low employee morale. Task automation allows team members to concentrate on some more essential tasks. It's also added value to their company by allowing teams to focus on innovation.
Task Automation for Different Businesses
You always have a lot relying on you as a small company owner. There are endless needs for your work. As a result, it is essential to prioritize advanced jobs above basic, repeated ones. Fortunately, most of your day-to-day work duties can now be automated.
Data Management
When you employ automation for data preparation, cleanup, and integration, you limit the risk of human error. You'll also improve data quality if you choose a platform that allows you to examine all your automated workflows from a single interface. This improves tracking and fault-handling capabilities. You can also be comfortable that all of your data is moving properly, and if anything goes wrong, you will be notified instantly and may take action.
You also don't need to recruit additional personnel to move quicker or manage larger data sets. Additionally, your employees may now focus on more important activities. This implies you can stop paying costly, highly qualified employees to execute mundane administrative tasks with your data.
Automation not only saves money on repetitive tasks, but it also allows for faster company success. For example, if your company relies on obtaining client data into its systems, that procedure might be a huge barrier to acquiring and onboarding new customers. You can only go so far in speeding up the procedure by recruiting additional and more personnel. By automating a portion of the data onboarding process, you make it more efficient and simpler for your clients, as well as easier and quicker for you, enabling expansion without increasing manpower.
Collaborative
Establishing a solid communication network is among the most crucial aspects of ensuring efficient team collaboration. Each team member must have easy access to all valuable information and also be able to speak about what's happening within the company.
Employees are relieved of the strain of repeated activities when company processes are automated. Most people find repetitive work tedious and unsatisfying. People receive no sense of accomplishment from completing them because they need minimal skill once you've performed them a few times.
In order to pick which business activities to automate, you must first prioritize which ones require the most automation. Asking employees which duties they are bored of performing is a smart way to figure out. When you establish an automation process, be sure it does not interfere with your employees' jobs.
Document Management
Document management is a vital component of all organizations, large or small. Even a small firm with a very easy business operation will incorporate at least a single document in its workflow. On the contrary, most documents in a corporation will require some sort of management procedure in order to be fully utilized.
Document management may be defined as the process of recording, tracking, securely storing, and sharing documents that contain business data. Businesses that adopt document management correctly may save time and costs in archiving, managing, and distributing documents, thus enhancing business productivity.
After you've improved the document management procedure, you may begin automating the workflow. To further simplify the workflow, you must automate as many activities as needed. Prioritize activities that are basic yet repeated, such as labeling new document inputs and sorting new documents. These tasks are often rather simple to automate and could have a positive impact by relieving your precious employees of this tiresome work.
Try Edworking for free
Email Management
Email automation is the practice of reducing manual work by automating tasks through one specified set of activities. Team members may use automation to simplify labor-intensive operations, cut time, and enhance workflow.
You can speed up manual operations by employing email automation. Implementing rules and changing settings to automatically deliver or distribute emails and tasks to relevant team members, can promote better collaboration. Even though this approach of email automation is excellent for responding to customer support concerns, it is also quite valuable to your internal staff.
Task Automation for Different Departments
Task automation provides several benefits to businesses that decide to include it within their day-to-day activities.
Many of these advantages have a beneficial influence on expenses, time, and output, however many go further and touch every component of a company from the bottom up.
Human Resources
Many company operations in human resources are ideal for automation to enhance efficiency and decrease risks in recruiting, keeping, and even terminating employees. The advantages of automation may be noticed by employees throughout the organization, including those working in the Human resources department and the corporation in general. Of course, there will always be a necessity for humans in human resources, if a case demands intricacy or subtlety that software cannot provide, but that is not a reason for not exploring automation.
Sales
Task automation is already playing a significant part in the sales process by automating numerous manual operations that currently are performed by salespeople. Most sales businesses use software to design sales funnels that outline each prospect's path from the time they are discovered to the time they become a client.
Sales teams may automate repetitive processes related to every phase of their sales funnel by integrating them into their CRM platform or connecting them to their sales report, ensuring that every person in their sales department has access to correct data.
Try Edworking for free
Marketing
Marketing automation improves the efficiency of one's business. You may be able to save money on personnel while potentially saving your team's time to focus on more critical, strategic tasks. Having an automated marketing department will also make your team's job easier. Your team may effortlessly post on social media, build an email campaign, blog, or construct a landing page.
Marketing automation software may assist your marketing team to identify prospects' preferences and where they are at in the purchase lifecycle by using behavioral monitoring methods such as tracing a user's movement across your website.
Finance
Businesses rely upon technology to solve difficult financial procedures. Payments must be handled, invoices must be prepared and issued, and billing must be related to buying orders and transaction proofs. In the financial department, each workflow and procedure involves a variety of people, technology, and data. Automation aids in the coordination of all moving elements by minimizing manual duties, improving communication, and helping to keep activities and tasks progressing.
Finance departments that heavily rely on manual procedures and technologies to manage financial information and operations, such as email and spreadsheets, are vulnerable to misunderstandings, loss of data, and errors. Teams may reduce errors, enhance communication, and boost work effectiveness by automating, and unifying these activities.
Task Automation Software
Task automation is beneficial to businesses. If you're seeking a solution that can assist you to reach your goals and it lacks task automation, you'll most likely keep exploring. What matters most is that you select software that automates with ease and has the ability to scale as your business grows and your workflows get more complicated.
How to Select the Best Automation Software for Your Company
Automation software has expanded rapidly in recent years. 75% of marketing executives are already utilizing at least a single marketing automation tool, and 50% report that automation has enhanced their overall conversions. These platforms, when combined with other conversion technologies, will significantly improve your company's success.
When searching for automation solutions, consider the tasks you want to automate in your business operations. A few of these processes can be automated using typical automation software platforms:
· Workflow Tasks
· Email Marketing
· Anayltics
· Lead Capturing
· Social Media Marketing
When exploring software on the market these days, keep a detailed list of the options you want to use when managing your online company. Some alternatives can be more complex than you require, while others may be exactly perfect. Maintain an open perspective and begin your search by looking into the top task automation software available on the market.
Conclusion
The future of work automation seems promising. More businesses are starting to use this method to boost productivity and simplify procedures. The major objective is to save time for the staff so that they can focus on jobs that require a human touch rather than repetitive, dull chores that automation can handle more effectively than humans.