If you manage a business these days, either on or offline, you are probably familiar with spreadsheets and their applications. Practically every single businessperson I've encountered these days relies extensively on spreadsheets to manage data related to marketing, sales, content development, and other critical decision-making factors. Google Sheets has 2 billion monthly active users, whereas Microsoft Excel has between 750 million and 1.2 billion monthly users worldwide.
Spreadsheets have always been among the most important tools used by organizations to manage their data. Spreadsheets are an important factor in any organization since the arrival of computers, whether you need to collect information, keep inventory lists, set tasks, manage tasks, improve production SKUs, and much more. Spreadsheets are used by everyone, including startups and freelancers to big businesses, to solve complicated mathematical problems and handle massive data.
These powerful tools provide similar capabilities and frequently open up significantly more possibilities. As a result, if you use Google Sheets as your sole project management tool, you will miss out on numerous professional possibilities and take needless risks. With so many spreadsheet applications available, you'll want to choose one that's appropriate for the projects you'll be handling. We got you covered if you're seeking a Google Sheet alternative. We reviewed the most common spreadsheet apps, ranging from the most basic to the most advanced, and so here we offer the ten best.
What is Google Sheets?
Google Sheets is a free online spreadsheet program that lets you manage massive quantities of data, generate custom reports, automate computations, and communicate with others. It is a component of the Google Workspace product suite.
Excel, which was first released by Microsoft in the year 1987, has been the go-to program for creating spreadsheets for many years. However, when the collaborative, cloud-based application Google Sheets was created in 2012, most users migrated to this free tool. Before we get into more traditional choices, let's discuss the advantages of utilizing Google Sheets.
It's completely free. There is no need for pricey software because Google Sheets has always been completely free.
The extra features enhanced usefulness and versatility make this spreadsheet tool much more flexible and powerful.
Google Sheet data may be accessed and edited from a broad range of devices.
You may access it online at any time and from any location. Furthermore, Google Sheets can also be used offline.
Limitations of Google Sheets
Google Sheets is an excellent data-management tool. It's incredibly popular because it's free and simple to use. However, there are some drawbacks to using this tool, since it has constraints that limit how much information you can handle and what you can accomplish. Furthermore, Google Sheets has just been updated, and some of the previous limits have been removed. Continue reading to find out about Google Sheets' acknowledged limits and how they may influence you and your operations.
Cell size - In contrast to the 10,000,000 cell restriction, each cell can contain a limit of 50,000 characters. A warning notice will appear if you attempt to insert over 50,000 characters.
Row - The amount of rows permitted in Google Sheets is limited, but by understanding the cell limits, you may find ways to get around this.
Column - The highest number of columns in Google Sheets is 18,278, however owing to the total cell constraint, you cannot exceed this amount in a Google Sheet with a single tab and 547 rows.
Cell number - This limitation is critical since it restricts other functions. Google Sheets has a maximum of 10,000,000 cells for both fresh and modified documents.
Tab - The tabs are also limited, but the cell constraints apply as well. Each new Sheet has one tab by default, with 26 columns and 1,000 rows.
Top 10 Google Sheets alternatives
When you search spreadsheet programs in Google, it will provide you with a long list of programs claiming to be superior to Google Sheets. Following a thorough analysis, we have selected the top ten Google Sheet alternatives that compete with Google Sheets in terms of usability, appearance, quality, security, and functionality. So, without any further, let us begin.
Microsoft Excel has been the standard spreadsheet application since its release. Excel, which debuted in 1987, has been a fixture of the Microsoft Office suite. It's now accessible as a desktop program for Windows and macOS, as well as an online app through the Office365 paid service.
Its user interface is simple to use on most PCs and mobile devices. Excel may appear to be more expensive than rivals. However, the additional cost provides consumers with customer service and dynamic features. The well-known tool improves productivity by arranging tables, structuring assignments, and organizing information in general.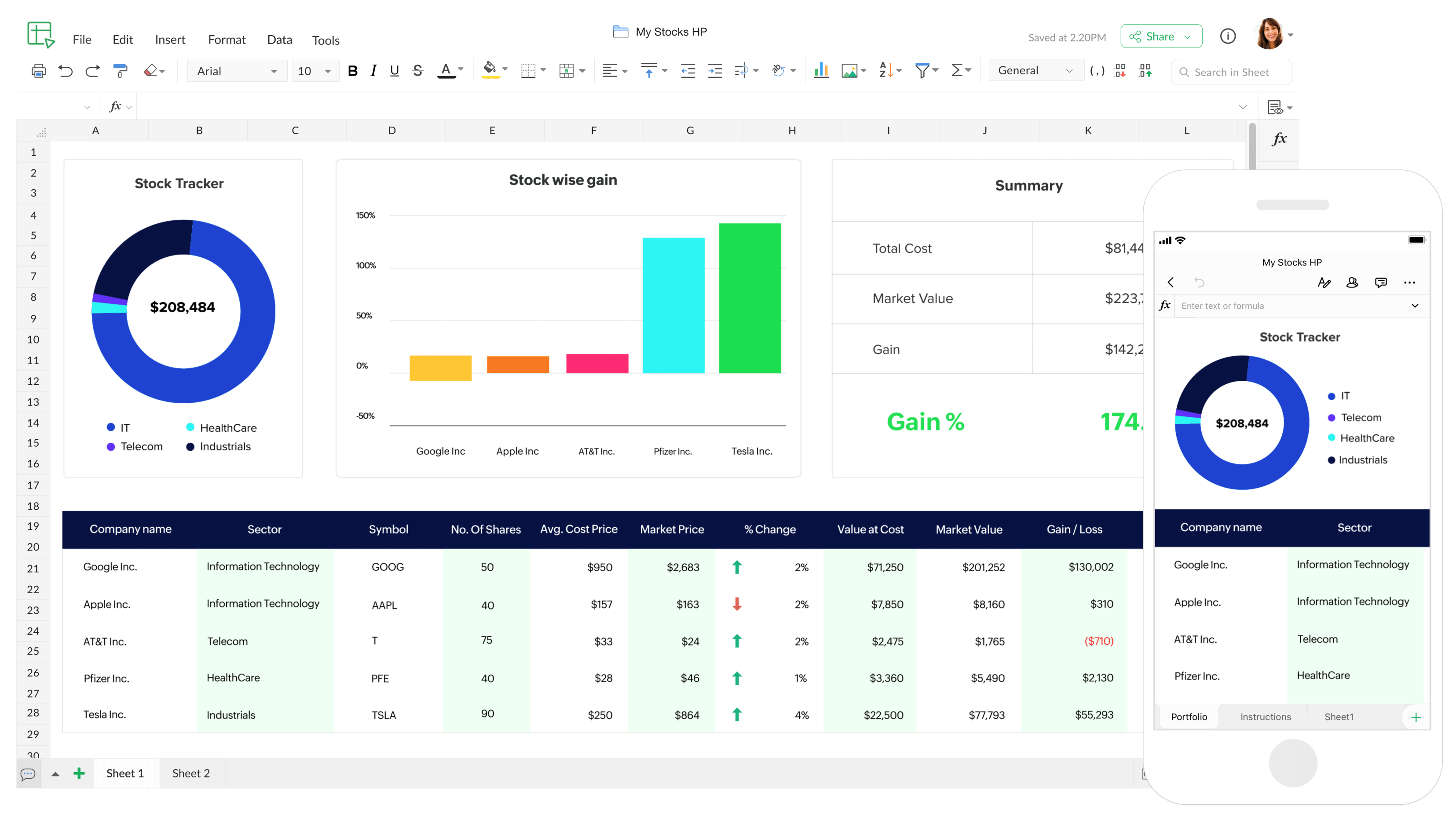 Zoho provides a wide range of cloud applications and platforms that are combined in various packages to meet a variety of purposes, with the majority of bundles featuring Zoho Sheet as a component of Zoho Office. Despite being a cloud-based solution, it includes a desktop program that lets you work offline, also with an online edition of any sheet syncing as soon as you reconnect to the internet. All major operating systems can be used and you can download it through Playstore and Appstore.
It can be connected with other tools in the Zoho Suite, making it an excellent solution if you want to leave the Google environment yet maintain a familiar experience. Zoho is the consistent alternative to work with if you're seeking a spreadsheet application as strong as Google Sheets. Zoho Sheet incorporates the greatest elements of Google Sheets and Excel, delivering cutting-edge spreadsheet capabilities to all types of businesses.
ClickUp is a full project management application that is an excellent substitute for Google Sheets. This is the most effective tool for team cooperation. Project managers may control the process and allocate tasks to respective teams from a unified dashboard. The nicest feature of this solution is that it could be effortlessly tailored to various team sizes.
ClickUp has several capabilities that Google Sheets does not have. For example, you may monitor your employees' progress from a single location.
Smartsheet is a major cloud-based tool for collaborative work. Businesses may use this Google sheets alternative to flexibly plan, implement, and report on information while working at scale. The nicest thing is that it is more than just a spreadsheet application; it is also a comprehensive management and collaboration tool. This is the reason Smartsheet users believe that it is even superior to Google Sheets.
The program includes calendars and Gantt charts to make project management simple. It offers pre-made templates for creating sheets from scratch. Smartsheet is appropriate for both small enterprises and larger organizations that must handle several projects at the same time.
Airtable, which is marketed as half spreadsheet and partly database, is likewise focused on organizing and collaboration. Airtable creates documents with Blocks, providing users with a rather more visual approach that is backed by a large variety of formatting options. With a robust API and compatibility for connections with hundreds of other applications and services.
While Airtable can be accessed through a browser, it also has full desktop programs for macOS and Windows, as well as mobile applications including both iOS and Android, allowing users to view and work on any projects on the move and offline.
LibreOffice is a free and open-source Office program, that has a large developer community and users that promote this fantastic product. LibreOffice Calc is a spreadsheet program that is very intuitive and simple to use.
Calc lacks cloud integration and real-time collaboration, although it does offer a remarkably comprehensive set of functions, a lot of which are not available in Google Sheets. This Google Sheets alternative offers a variety of style choices, including rotating contents, borders, backdrops, themes, and more. It also allows users to effortlessly work and co-author digital spreadsheets.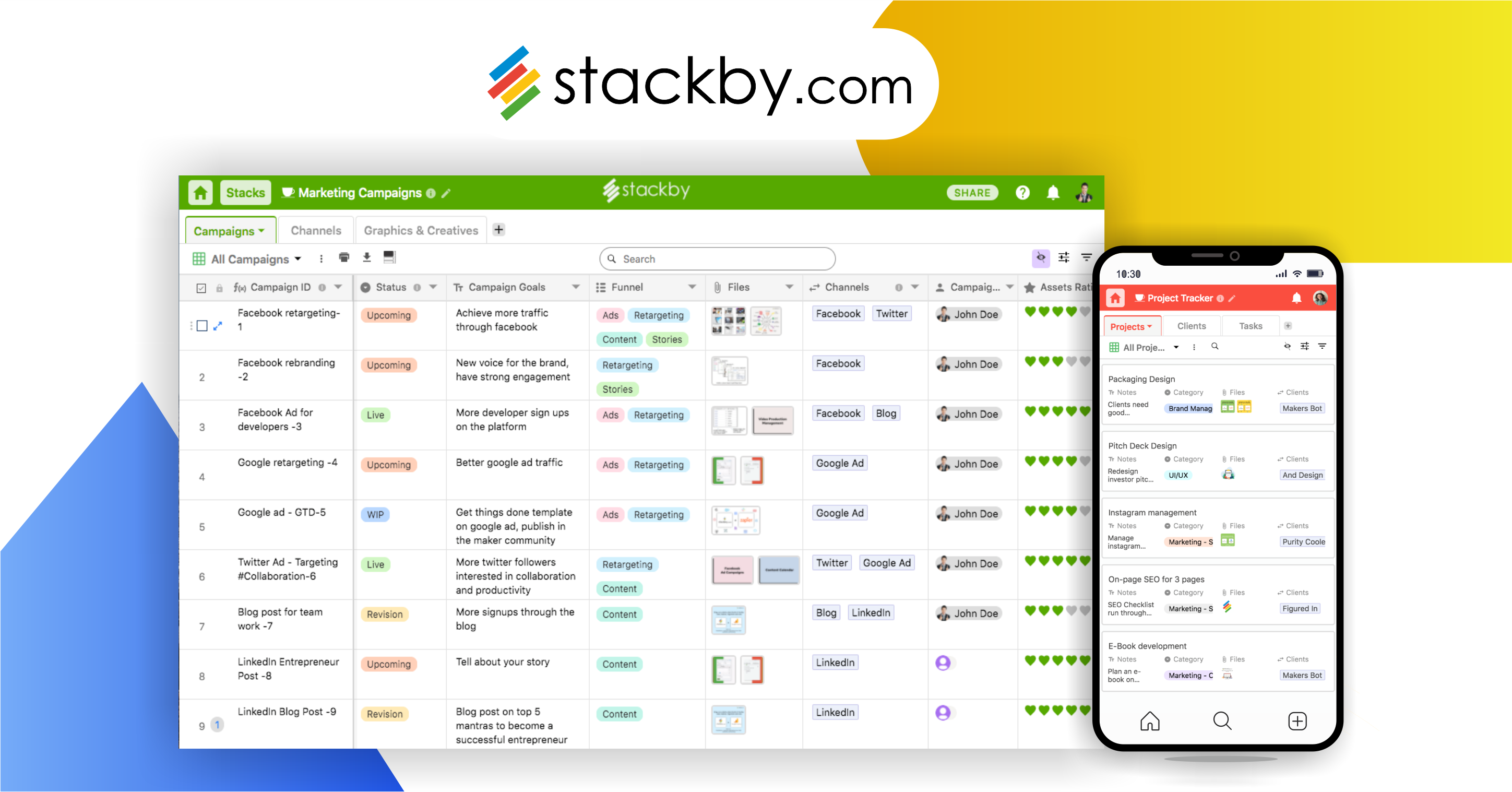 Stackby combines the versatility of a spreadsheet with the sturdiness of a database to provide a solution that completely satisfies your business requirements. You may also interface with the top business APIs and create processes and business solutions.
The wonderful aspect of Stackby is that there isn't any obligation to have learned to code or have existing expertise with it. Stackby also includes fully prepared templates. Anyone may use Stackby to manage their company operations for free. As your business expands, you may upgrade to one of our premium plans and have access to all of the crucial features.
Jotform offers numerous table templates which might be used in the same way as Google Sheets does. For example, basic CRM, sprints, monthly budget, and so forth. You may use it to construct a spreadsheet-like database and work with your colleagues or clients. You may use your data to build charts, arrange them into groups, or generate polished texts.
Given the reliability of its features, Numbers is a viable option for Google Sheets. However, Numbers stands apart with extra features such as the use of vivid pictures and pie-charts for rapid comprehension. Numbers outperforms its competition in everything from surveillance charts to tables to altering the text.
Numbers is a free alternative to Google Sheets. The only requirement is that you have an Apple smartphone.
Coda has spreadsheet functionality to help you integrate processes together with the other document management programs. Coda users may organize tasks, and teams using formulas, tables, and charts.
Coda enables automated operations in a single platform by allowing easy connection between spreadsheets and documents. Coda offers applications for both iOS and Android but no desktop program for pc users. But it's available via a web browser.
Conclusion
Google Sheets is an outstanding spreadsheet program with many simple features. However, as time has gone by, more sophisticated software has appeared on the market. Any of the tools above are excellent at what they do, hence the chances of you being dissatisfied with any of them are quite minimal.
Edworking is the greatest solution if you want a user-friendly collaboration platform for your team and business. Edworking offers several features that can increase the productivity of your team, resulting in more successful projects. Try Edworking now for FREE!