In today's world, it's not uncommon to find yourself in meetings, at lunch, on a train, or at the gym without your laptop. You know, doing things like talking on the phone, texting, or getting work done while you're away from your desk. However, while working on a mobile device can help you stay on top of things, using the wrong (not to mention expensive) apps can be a hindrance, especially if you have to switch between several applications to get something done.
If you're looking for a solution to simplify and unify several apps into one and help you effectively manage remote work, you might consider using Edworking's powerful mobile app.
Edworking's Mobile App gives you an entirely new perspective on how you work by making it easier to manage and work on the go while giving you access to essential tools at half the cost.
Edworking, the all-in-one remote work platform
Edworking is a remote work platform explicitly designed for teams that must collaborate with people and clients who are miles away. It allows you to share files, chat with clients and team members, and even complete tasks from anywhere. You can use it to manage work on the go and easily connect with the team you need to work with, regardless of where they are or what type of work they do.
The Edworking app for iPhone and Android smartphones
The Edworking app gives you a fresh approach to how you can organize, manage, and work on the go. Here are just some of the ways you can use the Edworking Mobile App:
Remote Management of Tasks
Task management is natural for any business, but as you grow, you might struggle to keep track of everything you need to do. Using Edworking's task management capabilities, you can easily see what's on your plate, even while you're on the go.
Like in the browser version, Edworking's task management interface in the app is well-organized, easy to navigate, does not require a long learning curve, and gives you quick and easy access not only to your tasks but the ones you have assigned to others as well.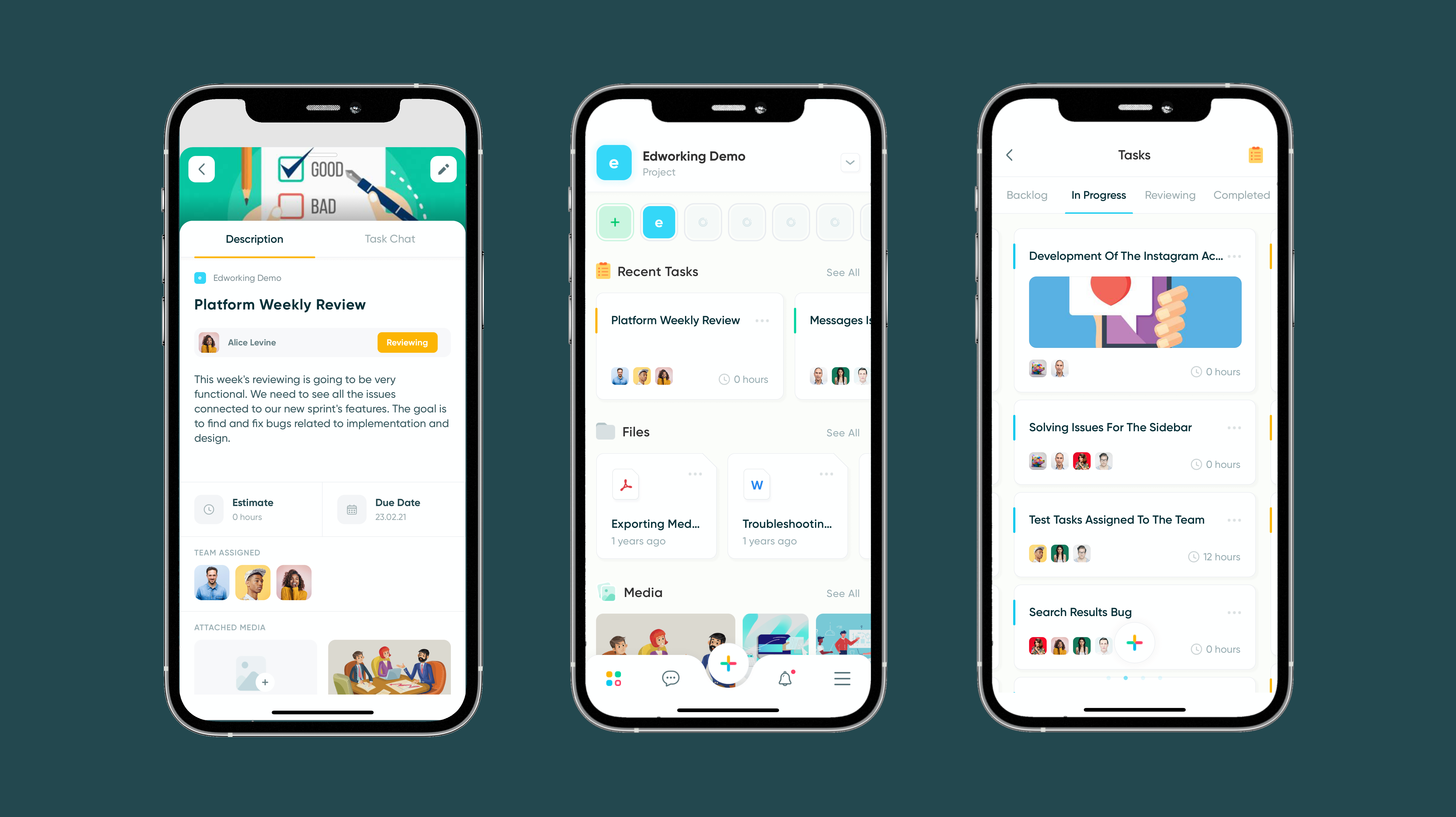 Communicate with clients and the team
Edworking's real-time communication capabilities allow you to communicate with your clients and team using different channels: text, voice, video, and image. You can chat with clients and team members, whether they're at home, at the office, or across the country. You can also schedule calls, receive files, create invoices, and take notes.
Share Stories
Nowadays, social media like Facebook and Instagram is replete with stories. Besides the usual posts, stories are how we keep track of what's happening in other people's lives. So, why not take advantage of the same while managing remote work?
With Edworking, stories are our way of celebrating small wins with our team. Anyone can post an update on their tasks, and everyone can leave a comment or react with an emoji. Whether you're a project manager or a member of the team working on the project, you can comment on each story and discuss them together.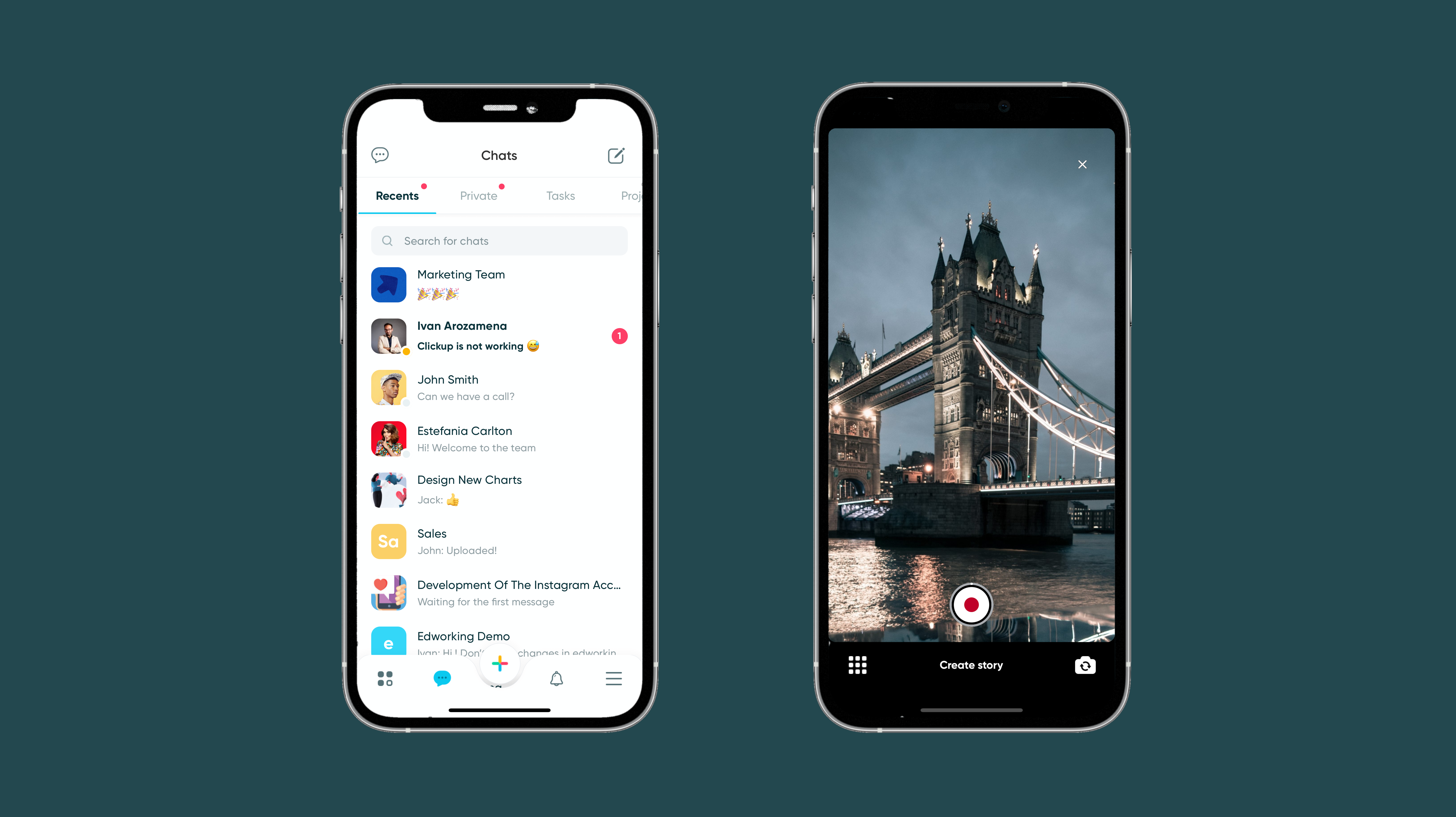 Send and receive files
File sharing is vital for every business. Whether it's internal files you want to share with other team members or a file you need to send to your client, you can do it all with Edworking's file-sharing feature. Just pick up the files or media you want to share, choose the specific task, and upload the file. Your files are automatically shared with parties involved in the project. You can also download files shared by others.
Using the Edworking App
On Android and iOS, Edworking's app is easy to navigate, and you don't need to be tech-savvy to use it.
All you have to do is to download the app and sign in with your registered email.
You can also send an invitation to a non-team member (e.g., a client or a consultant). The recipient uses the email invitation to register on the platform, and once done, you can already talk to them through the app.
The app makes creating, updating or changing a task's status easy. You will see that first thing when you open the app.
Clicking on a task allows you to check that task's description and chat history. If you click on the edit icon, you have the option to update the task's status and priority. You can also set reminders for the task. This app has a straightforward interface and is very user-friendly.
Edworking makes it easy to collaborate on projects using the app. You can send project invitations to clients, freelancers, consultants, or teammates. You can add comments to the task description and even attach files to the comments. The comments can include many types, such as links, photos, and audio and video files. The program also allows you to upload files to the project. You can also specify deadlines for the tasks. Tasks are arranged according to their deadline.
Files and media uploaded to the platform are immediately synced to the browser version.
Uploaded files and media may remain private or public, depending on the permission granted to the users. Users have a choice to make these files and media viewable or not.
The app notifies you via the notification system, of whatever changes are made to any task, any message you receive, or any file you upload. It's the best way to ensure you're not missing out on anything.
Edworking offers an excellent, feature-rich project management software that works well on both the iOS and Android platforms.
Conclusion
What's the best way to manage and work on the go? Whether you're working at home, traveling, or enjoying a long weekend, the Edworking Mobile App is the perfect way to organize, schedule, and track your work tasks. It helps you to save time and stay productive while on the go. With the Edworking Mobile App, you'll always know what you're supposed to be doing and when you're supposed to do it. No more lost time and wasted productivity. Learn more about the Edworking App and download it on Android and iOS now.
Edworking is free to try, but if you want to unlock unlimited tasks, chat and video calls, and store, the subscription fee is £10 per user per month (you can add unlimited users).
Visit edworking.com today to find out how this all-in-one remote work tool (browser and app) can benefit you, your business, and your remote team.