Handling multiple jobs and schedules can be tough, especially when you're doing them manually. To handle your everyday chores and tasks smoothly and ideally, you need a specialized program. This also helps you deal with several projects at once and improves your capacity to tackle difficult jobs and projects.
In this article, we will go over the top three Windows task scheduler alternatives that you need to organize tasks at the team and individual levels. But, before we get to our list of alternatives, let's discuss what is a task scheduler and why you need it.
What is a task scheduler?
Windows Task Scheduler is a planning application that allows you to automate basic operations. Windows job scheduling provides minimal automation capabilities and comes standard with several Microsoft operating systems. Simple activities can be scheduled to run using occurrence or time-specific prompts to accomplish tasks, with every task capable to provide at least one function to accomplish the job.
If you're working in a Windows platform, you could be utilizing Windows Task Scheduler to automate repetitive tasks on your system. However, if your objective is to create a more efficient system from the bottom up, the native task scheduler may not be the best solution to fulfill your overall automation objectives. Because Windows Task Scheduler has limited scheduling choices, you cannot create and automate more advanced tasks that simplify your company processes.
What are the benefits of using it?
A business or group operates on timetables and a planned vision. Task scheduling ensures efficiency and effective management. We've already gone through a period where tasks were manually planned. Manual scheduling takes a significant amount of time and money. Tasks can be readily established and handled until they are completed with task scheduling software. Here are some benefits why you need to use one.
Create a routine
You build a routine by keeping to a timetable. Order and discipline help you keep your professional life more functional and concentrated. By sticking to the proper routine, you can protect yourself from uncertainties, which can cause stress and unhealthy lifestyles.
Furthermore, by limiting the time you devote to making choices, routines can help minimize exhaustion while also boosting your physical and mental well-being.
Low on Cost
Consider a scenario in which the firm owner assigns a number of specified duties to both staff and management. It appears to be impractical to put into action. The organization will need to employ a task assignment team for this. This cost can be lowered by using task scheduling software, and the work can be completed with just a few hands.
Remove Stress from Your Workplace
Since it can hurt the mind and the body in various ways, stress is considered one of the most ignored killers. A routine will not remove stress, but it will help to alleviate it.
Scheduling your chores can help you determine your goals and spend the proper amount of time on the required job. It also notifies you of any forthcoming deadlines. You can then schedule some time to spend with them. Furthermore, it ensures that your job does not pile up into a massive impediment that you are unable to overcome.
Communication and accessibility
Task scheduling software makes it possible for people to collaborate, share information, and upload files. It maintains communication and collaboration on a single platform. Everyone who uses the software has access to the data according to their own privileges. It cuts time and allows staff to concentrate on their tasks without interruptions.
Data Tracking
The data and visual presentation of planned activities allow management to quickly track staff workflow. It aids in the improvement of staff efficiency and the implementation of disciplinary procedures for seamless work culture. Data insights could also aid in understanding the causes of an organization's success and failure, which can then be used to define future objectives and strategies.
Preventing Errors
Human mistake is most prevalent at work. Once allocated, task scheduling software remembers the assignment and reminds individuals of various process priorities. In certain ways, it holds people accountable and aware of their tasks. Employees, on the other hand, can effectively plan out their work because they receive all assignment details before the beginning of their work.
Top 5 Windows Task Scheduler Alternatives
Despite the number of Windows task schedulers available on the market now, most of them are not quite as effective as their sales pitches suggest. There are a few tools that are equally useful as the popular schedulers and perform the same functions but at a far lower cost.
We also considered cross-platform task scheduling alternatives, that might be utilized to manage tasks on Windows servers and PCs even if they did not operate on a Windows host. This is especially noticeable in cloud-based task-scheduling applications.
Redwood RunMyJobs
Redwood provides a completely hosted workflow creator with a scripting framework. The workflow development process is built around a graphical editor, which allows you to construct a graph for the operations you would like to implement and analyze. Then you fill in the blanks for each phase.
Schedule sequencing can even be time-based or event-based, and both can be programmed to run on a regular basis. You can establish completion targets, and the system will track how each program is carried out. The Redwood software will notify you if a scheduled step starts to fail or if it reaches the target goal.
When a workflow is completed, the system saves logs of the process, including completion states and durations for each phase in the schedule. These logs can be queried to identify error messages and execution rates.
Key Features
It incorporates event-driven automation as well as DevOps automation.
With reusable task stages, sequences, and calendars, it maintains consistency, minimizes repetition, and improves efficiency.
The software offers all of the functionality of a standard scheduler as well as data security via encryption.
Pros
Traffic shaping can be used by system administrators to prioritize tasks.
Provides execution monitoring, which is appropriate for complex operations.
Simple user interface.
Cons
Not suitable for non-technical individuals.
Pricing
Contact Redwood for the pricing details.
ActiveBatch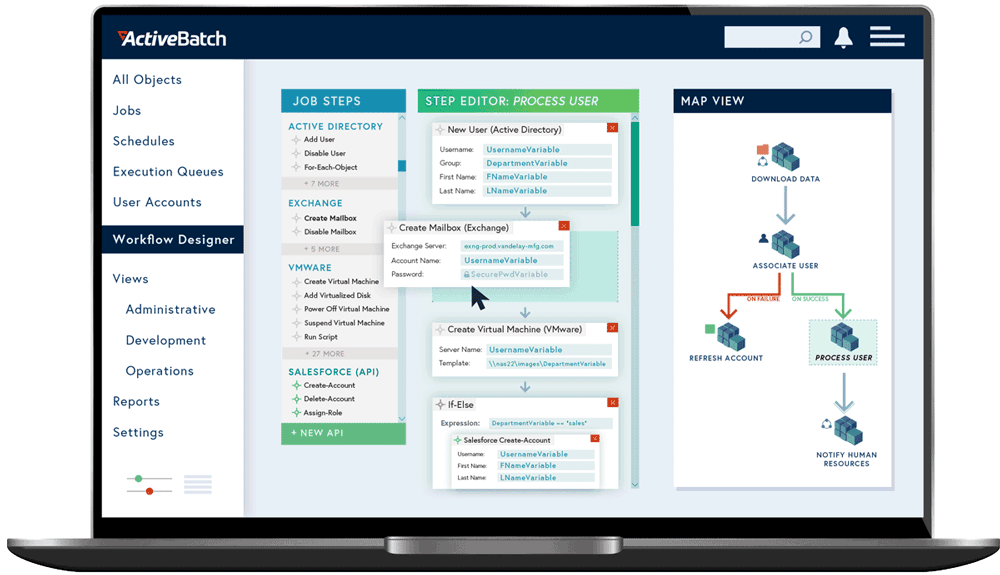 ActiveBatch provides all of the functionality that you need in an advanced work scheduler. This system's surprise feature is that it doesn't run on Windows. It is a cloud-based platform that can connect to your system from a remote location. It manages the scheduling process on Windows hosts.
It features a drag-and-drop GUI with low code. ActiveBatch will assist you in organizing tasks. You'll be able to control all of your functions from a single platform. It will help you improve your IT automation approach.
The system clock is the primary trigger for the action, and ActiveBatch gives the choice of activating processes from the calendar. As a result, you can schedule a batch task to begin at a certain schedule, a designated time on a day.
ActiveBatch is an effective solution for a Windows task scheduler application since it is a cross-platform program that can enhance workflows and task scheduling of Windows-based processes throughout all platforms. The service provides a straightforward drag-and-drop process builder and can construct event- or time-triggered schedules.
Key Features
Service Library API service enables low-code integration with some other tools and applications.
DevOps collaboration tool for managing process lifecycles.
End-to-end workflow transparency and monitoring involving numerous tasks and systems.
Pros
Workflows are simple to create.
Operates in the cloud, which is ideal for swiftly increasing or scaling jobs.
Task automation is supported either on-premise or in the cloud.
Cons
ActiveBatch is intended for network administrators, and it may take some time to properly assess all features.
Pricing
Contact ActiveBatch for the pricing details.
Advanced Task Scheduler
Advanced Task Scheduler is a powerful task scheduler for Windows that offers a range of advanced features. One of the key features of Advanced Task Scheduler is its ability to automate tasks based on a range of triggers. This means that users can set up tasks to run automatically when certain events occur, such as when the computer starts up or when a specific file is saved.
Key Features
Advanced scheduling options for running tasks at specific times or based on specific events
Trigger tasks based on file events or changes
Send email notifications when tasks complete or fail
Run tasks as a specific user with elevated privileges
Supports a wide range of file formats for task automation
User-friendly interface for easy task creation and management
Pros
Advanced Task Scheduler offers a range of advanced scheduling options, including the ability to run tasks at specific times or based on specific events.
The software is easy to use, with a user-friendly interface that makes it simple to set up and manage tasks.
Advanced Task Scheduler supports a wide range of file formats and can be used to automate a variety of tasks.
Users can receive email notifications when tasks complete or fail, which can be useful for monitoring task progress.
Cons
Advanced Task Scheduler can be a bit pricey, especially for users who only need to automate a few tasks.
Some users may find the software's advanced features a bit overwhelming at first.
Pricing
Advanced Task Scheduler is available for a one-time fee of $39.95 for the standard edition, or $79.95 for the professional edition.
Task Till Dawn
Task Till Dawn is another powerful task scheduler for Windows that offers a range of advanced features. One of the key features of Task Till Dawn is its ability to create complex schedules that can include multiple tasks and triggers. This means that users can set up complex workflows that automate a range of tasks and actions.
Key Features
Advanced scheduling options for creating complex schedules with multiple tasks and triggers
Simple and intuitive interface for easy task creation and management
Free and open source software
Can be run from a USB drive for portability
Supports a range of file formats for task automation
Pros
Task Till Dawn is highly customizable, with a range of advanced settings and options that allow users to create complex schedules.
The software is free to use and open source, making it a great choice for users on a tight budget.
Task Till Dawn is easy to use, with a simple and intuitive interface that makes it easy to set up and manage tasks.
The software can be run from a USB drive, which can be useful for users who need to manage tasks on multiple computers.
Cons
Task Till Dawn may not be as powerful as some of the other alternatives on this list, particularly when it comes to more advanced scheduling options.
Some users may find the software's interface a bit simplistic or lacking in features.
Pricing
Task Till Dawn is completely free to use and open source.
Edworking (Task Management)
Edworking is Free to use and Task Management is one of many features we provide. With the click of a button, you can create a quick task, name it and write explanations or instructions for your team to fully explain the task at hand. You can also insert an image that corresponds to the task at hand using the Unsplash plugin.
Setting a time frame is as easy as it gets; tweak the slider and choose how many hours, days, or weeks you require for each task. Assigning a deadline is as simple as picking a day on the calendar when the task should be completed. You can also label jobs in various states and quickly organize them by dragging and dropping them. To have a more efficient collaborative process, assign different responsibilities to different members of your team. You can include any type of file you want to assist your team in completing the task as quickly and easily as possible.
Edworking is a free collaboration tool, and Task Automation is one of the many features we provide. I'll go over some of the other features that make Edworking the best alternative for you and your team.
More Edworking Features
Docs - it allows you to collaborate on product ideas, document bugs, and do a variety of other things. You can keep everyone up to date by creating, editing, and storing all of your Docs in one location.
Chat - you can stay organized and focused by having separate chats for each of your spaces, tasks, and team members. Collaborate with other companies' teams in the same way that you do with your own.
Video Call - a video call is built into chat and can be used in both private and group chats.
Stories - Within your team, you can communicate effectively. Sharing your stories in specific tasks, spaces, or simply to a team member. You can record yourself or your screen.
Files and Media - Keep all of your files in one safe place where you can access them from your computer, phone, or tablet. Organize your work files to make them easier to find.
Conclusion
These were just a few alternatives to the Windows task scheduler. If you deal with a lot of repeating duties, a task scheduler could make your life simpler. By making your workflow automated, you may save time for larger tasks while maintaining essential business-critical processes. If you're looking for more than just a task scheduler, try Edworking for Free and take advantage of these features to make your collaboration work smoothly.
FAQs
Why should I consider alternatives to Windows Task Scheduler?
While Windows Task Scheduler has been a reliable tool for many years, it might lack some advanced features and user-friendliness that modern task scheduling applications offer. Trying out alternatives can help you discover new functionalities and improve your task management experience.
Are these alternatives free or do they require a subscription?
The pricing structure for each alternative may vary. Some may offer a free version with basic features, while others might require a subscription for advanced options. It's always best to visit their official websites for the most up-to-date pricing information.
Can I use these alternatives on multiple platforms?
Yes, most of the alternatives mentioned in this article offer cross-platform compatibility. Crono, for example, works with Windows, macOS, and Linux. Make sure to check each tool's system requirements to ensure compatibility with your preferred platform.
How difficult is it to switch from Windows Task Scheduler to one of these alternatives?
Switching to an alternative task scheduler is generally straightforward. Most of the alternatives mentioned have user-friendly interfaces, making the transition process smoother. Additionally, some tools may offer import/export features to help you transfer your existing tasks from Windows Task Scheduler.
Are these alternatives secure and reliable?
The alternatives listed in this article are known for their reliability and security. However, it's always a good idea to do your research and read user reviews before committing to a new tool. This way, you can ensure that the scheduler you choose meets your expectations in terms of performance and security.