If you're a project manager seeking a review of popular project management tools in 2023, you've come to the right place! With remote work becoming more popular, project management systems have become essential for firms of all sizes to manage their work. In this article, we'll compare Jira and Basecamp to help you decide which one is right for you.
Jira and Basecamp are both commonly used and have unique capabilities that appeal to specific needs. We'll compare and contrast both tools so you can make an informed selection. Whether you're searching for customizable workflows or user-friendly collaboration capabilities, we'll highlight the major differences to help you choose the best solution for your team. So let's get started!
What is Jira?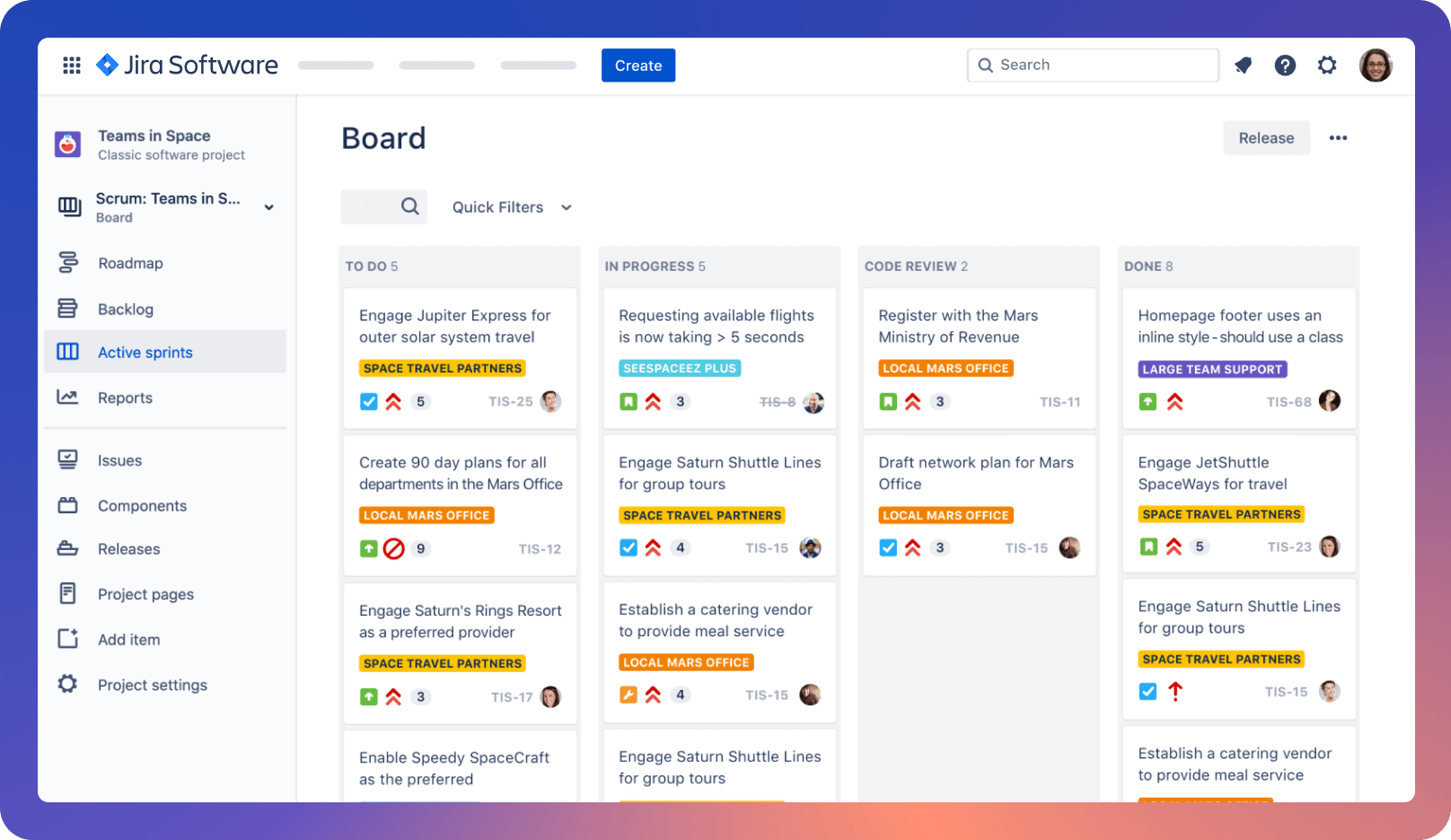 Jira is an awesome tool for teams that need to manage their projects and track progress in real-time. Let's say you're part of a software development team and you need to plan and execute your projects with the utmost precision. You'd want to make sure everyone on the team is on the same page and working toward the same goals, right? That's where Jira comes in.
Jira offers a range of features that enable teams to work collaboratively and stay organized. It's especially useful for teams that practice agile software development, which involves working in short sprints and continuously improving the product. With Jira, teams can easily set up workflows, assign tasks, and monitor progress.
Jira Features
Jira is a powerful project management tool that provides a variety of features to help teams manage their projects efficiently. Here are some of the key features that Jira offers:
· Agile project management: Jira provides teams with various agile project management tools, including scrum boards, kanban boards, and backlog management. These features enable teams to plan, track, and manage their projects in real time, making it easier to deliver high-quality software.
· Customizable workflows: Jira allows teams to customize workflows to fit their unique needs. Teams can set up custom workflows, fields, and screens to ensure everyone knows what's expected of them at each stage of the project.
· Issue tracking: Jira's issue tracking feature allows teams to track issues and bugs in real time, assign them to team members, and monitor their progress. This helps teams resolve issues quickly and efficiently.
· Collaboration: Jira provides user-friendly collaboration features that allow team members to communicate and work together effectively. This includes features like commenting, tagging, and notifications, which make it easier to stay up-to-date with project progress.
· Reporting: Jira's customizable reporting tools provide teams with insights into project progress, team performance, and more. This helps teams make informed decisions and improve their processes over time.
Jira Pricing
Jira Work Management is a versatile project management software designed to help businesses of any size streamline their workflows and manage tasks more efficiently. Here are the pricing plans available for Jira Work Management:
· Free Version: The free version of Jira Work Management is available for businesses on a budget or small teams who are just getting started with project management.
· Standard Plan: Jira Work Management's Standard Plan costs $5 per user, per month. If you opt for an annual plan and pay for 12 months in advance, you effectively get two months for free.
Jira Cloud is a cloud-based project management software with a range of features and plans to choose from. Here are the pricing plans available for Jira Cloud:
· Free Tier: Jira Cloud offers a free tier that includes basic project management features.
· Standard Plan: Jira Cloud's Standard Plan starts at $7.75 per user, per month on a monthly rolling plan.
· Premium Plan: Jira Cloud's Premium Plan costs $15.25 per user, per month, and includes advanced features for larger teams and more complex projects.
· Enterprise Plan: Jira Cloud's Enterprise Plan is designed for large organizations and can be quoted on request. This plan offers advanced security features, premium support, and custom pricing based on your business needs.
Jira Integrations
Jira is a powerful project management tool that offers integrations with over 3,000 apps and services. Here are some of the popular apps that Jira integrates with:
· Slack: Jira can be integrated with Slack to help teams communicate and collaborate effectively. The integration enables team members to receive real-time updates and notifications about project progress.
· Confluence: Jira's integration with Confluence makes it easier for teams to collaborate on project documentation. This integration enables team members to access project-related documents and files within Jira.
· Trello: Jira can be integrated with Trello to provide teams with a visual representation of their projects. This integration enables team members to see the project progress on a kanban board and track project tasks in real time.
These are just a few of the popular apps that Jira integrates with. Jira's integrations can help teams to streamline their workflows and collaborate more effectively, making it an ideal solution for software development teams and other project-based organizations.
What is Basecamp?
Basecamp is a web-based project management software that is designed to help teams organize their work and communicate more efficiently. It offers a simple and intuitive interface that allows teams to collaborate, share files, and track project progress all in one place.
Basecamp is widely used by teams across various industries, including marketing, design, and software development. For example, imagine you are part of a marketing team tasked with launching a new product. With Basecamp, you can create a project and invite team members to collaborate on tasks, share documents and updates, and track the progress of the project. This means everyone involved in the project is on the same page, and communication is streamlined, making it easier to meet project deadlines.
Basecamp Features
Basecamp offers a range of features that make it easy for teams to manage their projects and collaborate effectively. Some of these features include:
· To-do lists: Basecamp's to-do lists make it easy to keep track of tasks and deadlines. You can create to-do lists for each project and assign tasks to team members, set due dates, and receive notifications when tasks are completed.
· Message boards: Basecamp's message boards allow teams to communicate in a centralized location. You can post messages, share files, and start discussions on specific topics related to your project.
· Schedule: The schedule feature allows teams to see upcoming deadlines and events in a calendar view. You can create events and deadlines, assign them to team members, and receive reminders when they are approaching.
· Automatic check-ins: Basecamp's automatic check-ins help teams stay in sync by asking team members a set of questions regularly. This feature helps you to stay on top of what your team is working on, and identify any potential issues before they become bigger problems.
· Client collaboration: Basecamp makes it easy to collaborate with clients and external stakeholders. You can invite clients to projects and control their level of access, allowing them to stay informed on project progress without compromising sensitive information.
Basecamp Pricing
Basecamp provides two plan options, Basecamp Personal, and Basecamp Business. You can access the Basecamp Business plan for free with a 30-day trial, which can be canceled at any time without providing a credit card.
The pricing for the two plans is as follows:
· Personal plan: $0 (free plan)
· Business plan: $99 per month (flat-rate)
Basecamp offers a 15% discount if you pay for a yearly subscription upfront. It's important to note that the pricing for Basecamp does not depend on the number of users, which means that smaller teams may end up paying more than they need to. On the other hand, the flat Basecamp cost could be beneficial for larger teams.
Basecamp Integrations
Basecamp integrates with several popular tools to help users optimize their workflow. Some of these integrations include:
· Zapier: This integration allows you to automate workflows between Basecamp and over 2,000 other apps. You can create Zaps to automatically create Basecamp to-dos, messages, or events whenever an action is taken in another app, and vice versa.
· Google Drive: You can easily attach Google Drive files to a Basecamp message, to-do, or comment with this integration. This allows your team to access important files and collaborate on them without leaving Basecamp.
· Dropbox: Similar to Google Drive, you can attach Dropbox files to a Basecamp message, to-do, or comment. This integration helps to centralize all of your files and make them accessible to your team in one place.
Where are the main differences?
Jira and Basecamp are both tools to help teams manage their work, but they have some differences. Jira is mainly for teams who make software, while Basecamp is for teams who need to talk and work together on projects.
Jira is really good for big teams that have complicated work to do. It can do a lot of things and has some advanced features, like reports and tracking problems. But because Jira is so flexible, it can be harder to learn and set up.
Basecamp is easier to learn and set up, so it's a good choice for smaller teams that want a simple tool to work with. It's also less expensive for big teams. But it might not have all the fancy features that Jira has.
Conclusion
While Jira and Basecamp are both popular project management tools, they each have their strengths and weaknesses. However, if you're looking for a comprehensive remote platform that goes beyond project management, then you should consider Edworking.
Edworking offers a single solution for remote teams, with all the tools and resources they need to work effectively. From project management and collaboration to communication and file sharing, Edworking has it all. Plus, it's specifically designed for remote teams, making it easy and intuitive to use.
So if you want to streamline your remote work experience and have everything in one place, Edworking is the way to go. Say goodbye to juggling multiple tools and hello to a more productive and efficient way of working.