Communication is the key to successful project management. With Edworking, it"s easier to keep in touch with your team. With so many possibilities for miscommunication, Edworking simplifies things by centralizing your work and the communication regarding the tasks, all in one place.
How to view conversations?
In the right side of the dashboard, you can see all recent communications. This includes the conversation you have with your team members, and the room for the different tasks where you can message the assigned members in one go. It is similar to a group chat.
In the example below, you can see the name of the team member, and the different tasks such as "How to use Chats." In this case, when you click to open it, you can see who created the task, who joined the task, and the status of the task in general.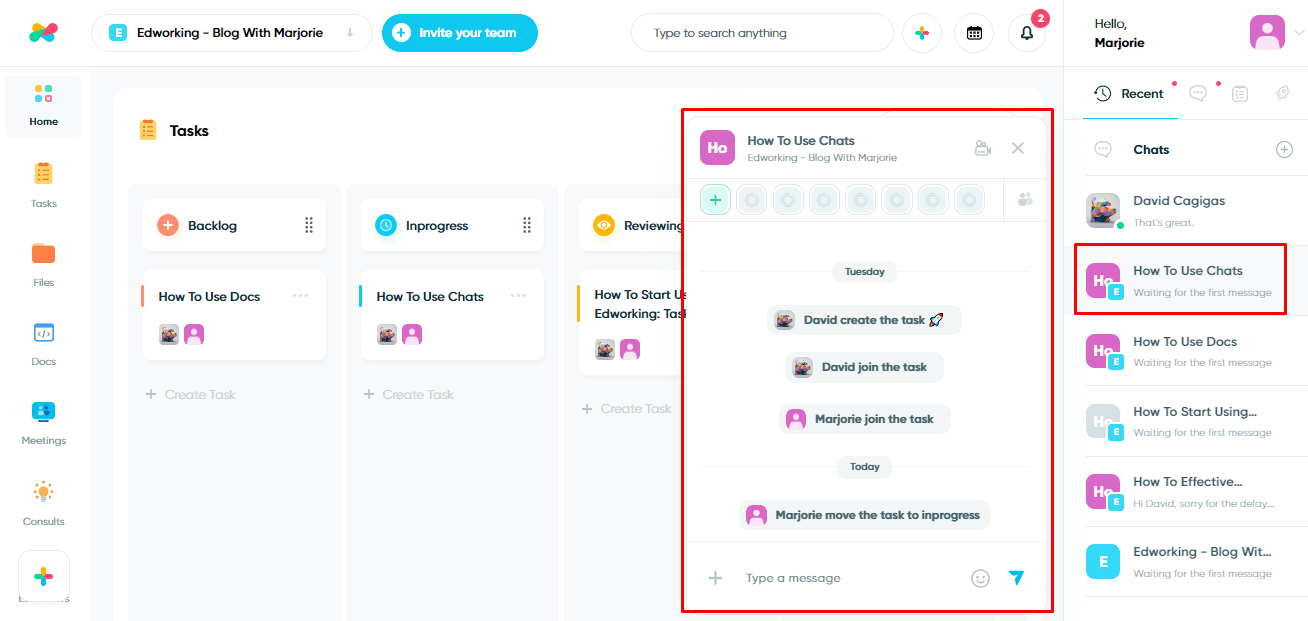 Get in touch with anyone, not just Edworking Users
In the conversations section, beside the "Chats," you may click the + sign.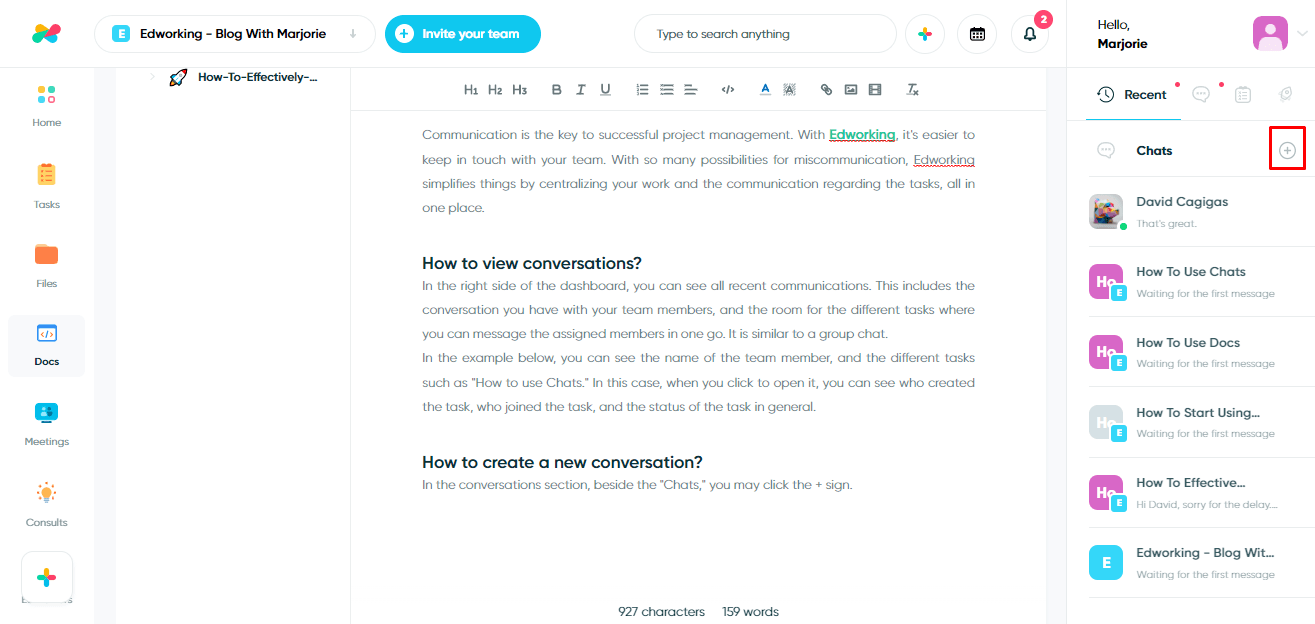 You may then choose a contact. If you have hundreds of contact list, you can utilize the search button and search for their names.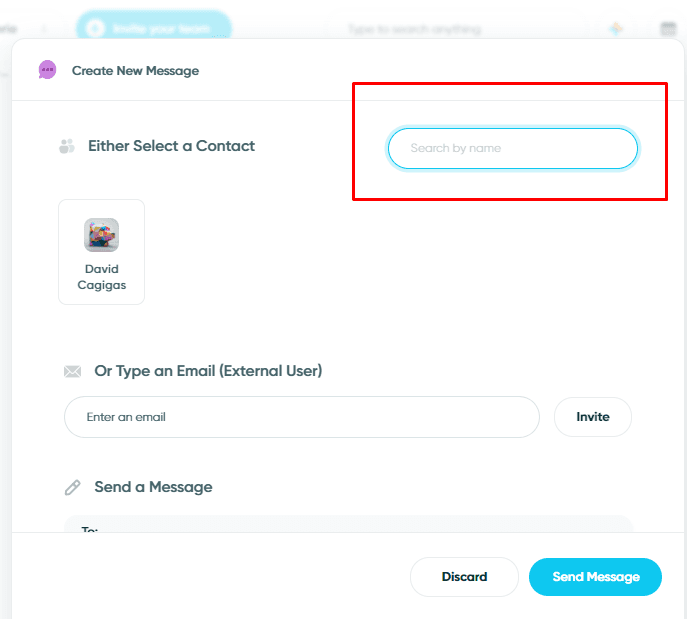 However, if the user is not yet part of the Edworking community, you may ask for an email and paste it on the email field and click invite. The person you invited will receive an invitation and personalized message to join your space in Edworking.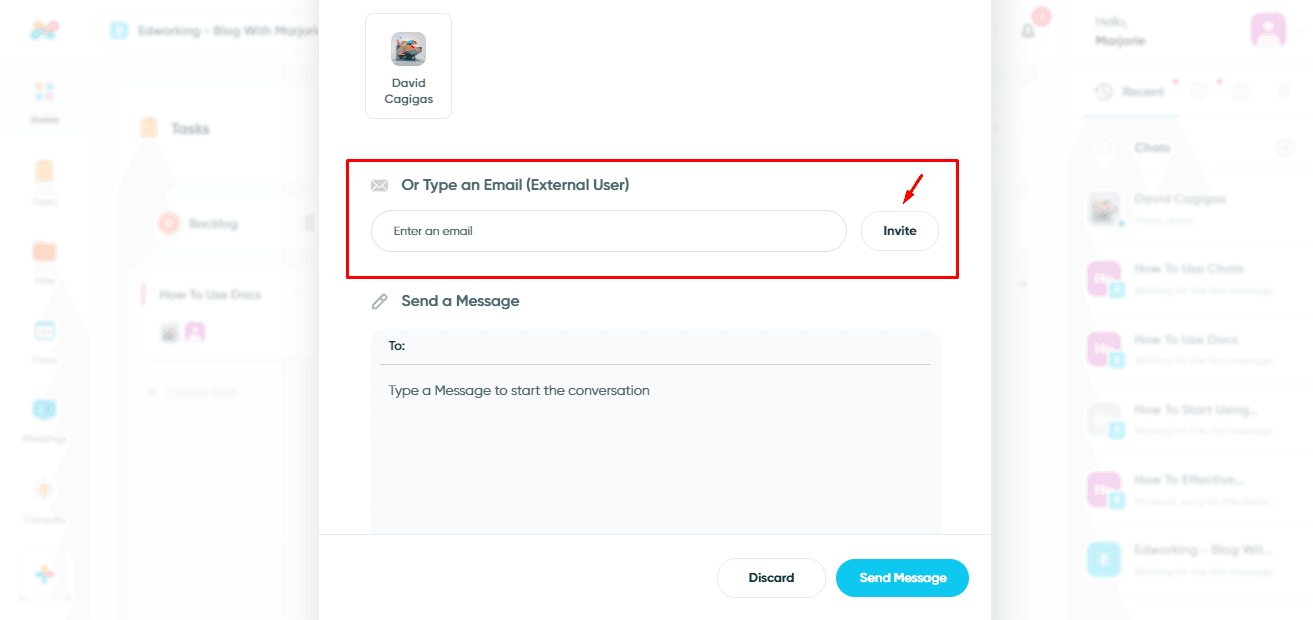 Lastly, enter the message you want to convey and click "Send Message."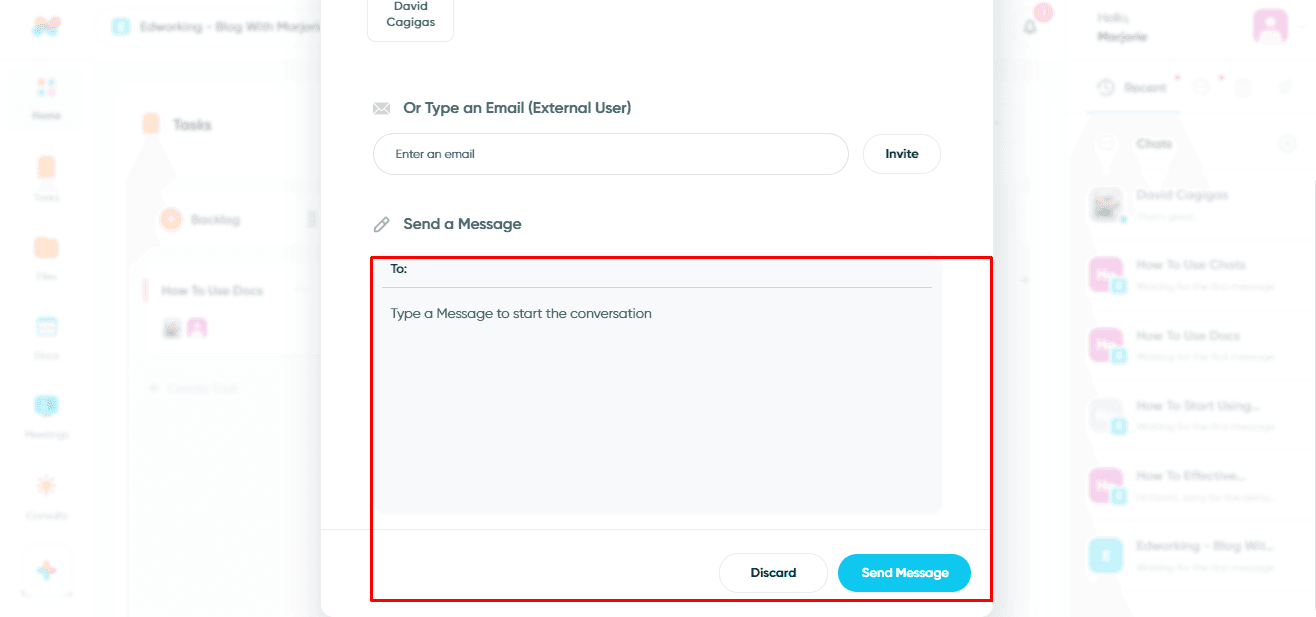 Respond to a Message
You can type your message to respond or send an emoji to show your acknowledgement and support.
Why choose Edworking?
Here are the features that you"ll love.
Organization
You don"t want to lose important messages, and that"s for sure. That"s why, Edworking"s conversation section has 4 categories namely, Recent, Private, Tasks, and Spaces to help you get organized.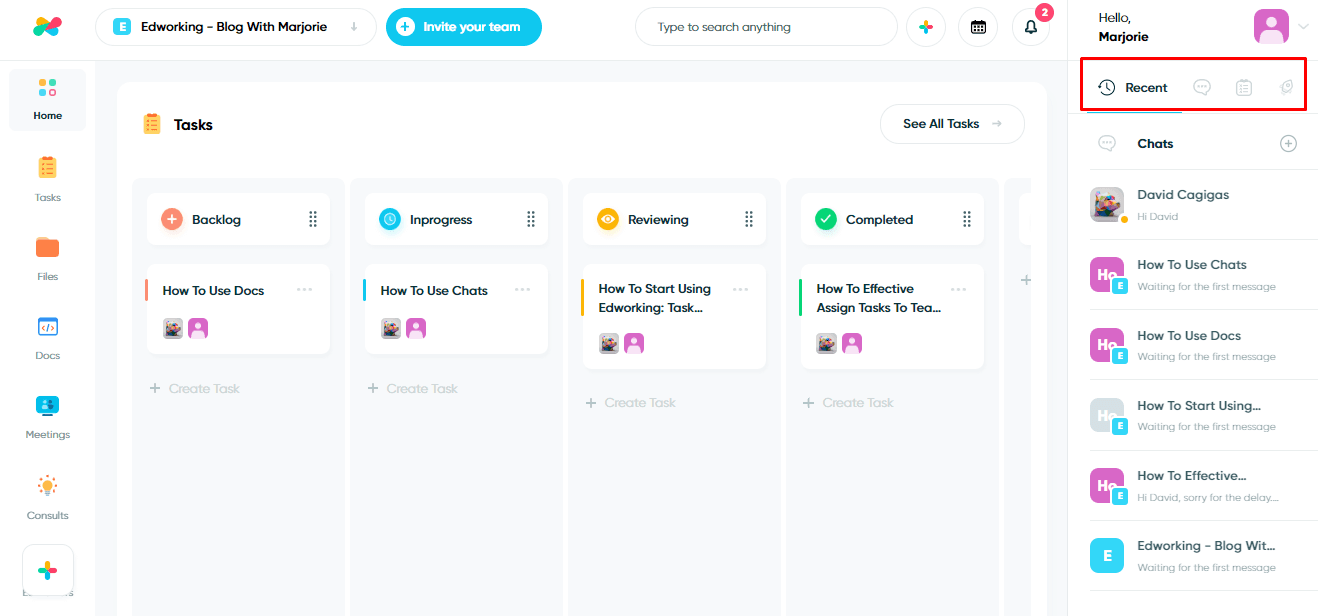 Under the "Recent" section, you can see all recent messages from your team, and the room for the various tasks you"ve created or assigned to you. Private messages on the other hand only shows messages from Edworking users or your team members in the same space.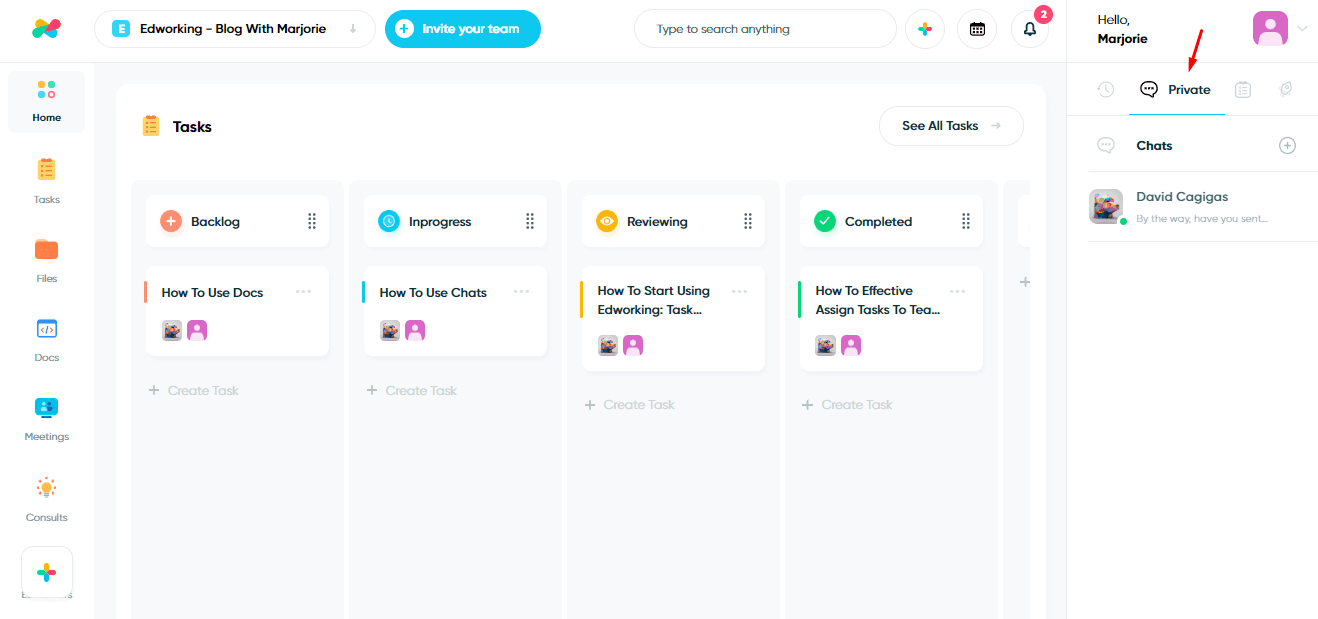 The Tasks have all tasks you"ve created yourself or assigned to you.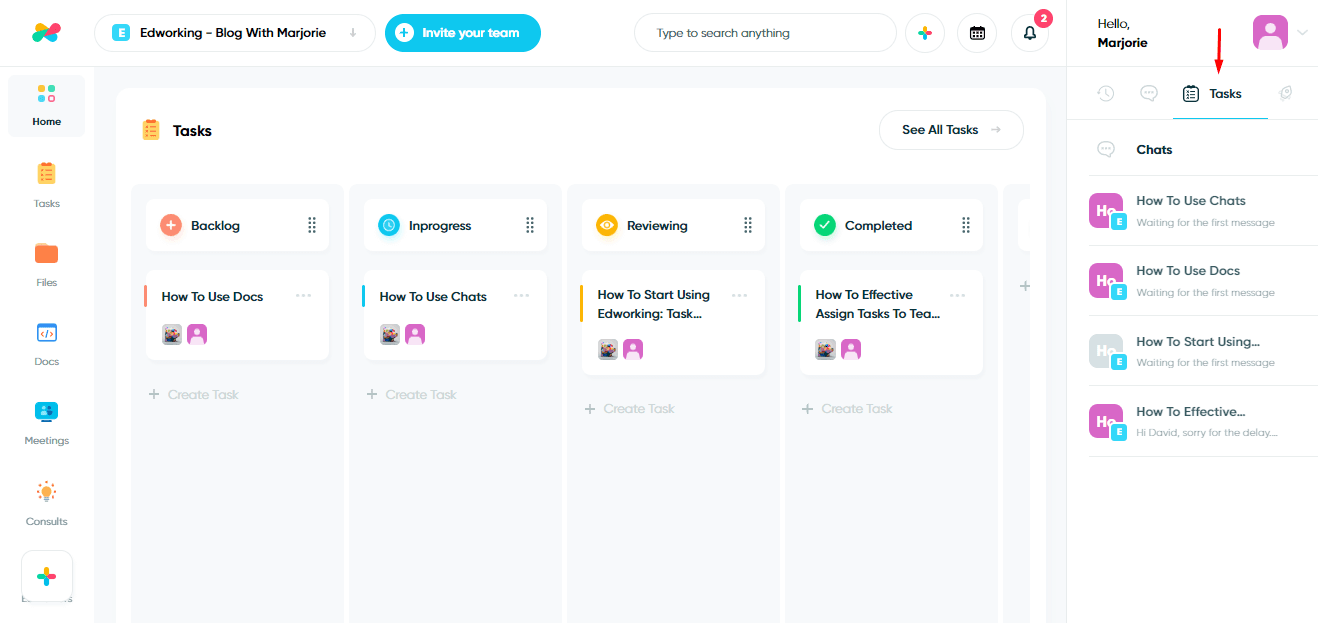 The Spaces are the workspaces you"re in. The team leader can create multiple workspaces for various projects. It can be that there are 3 different projects and to keep everything organized, 3 spaces should be created as well.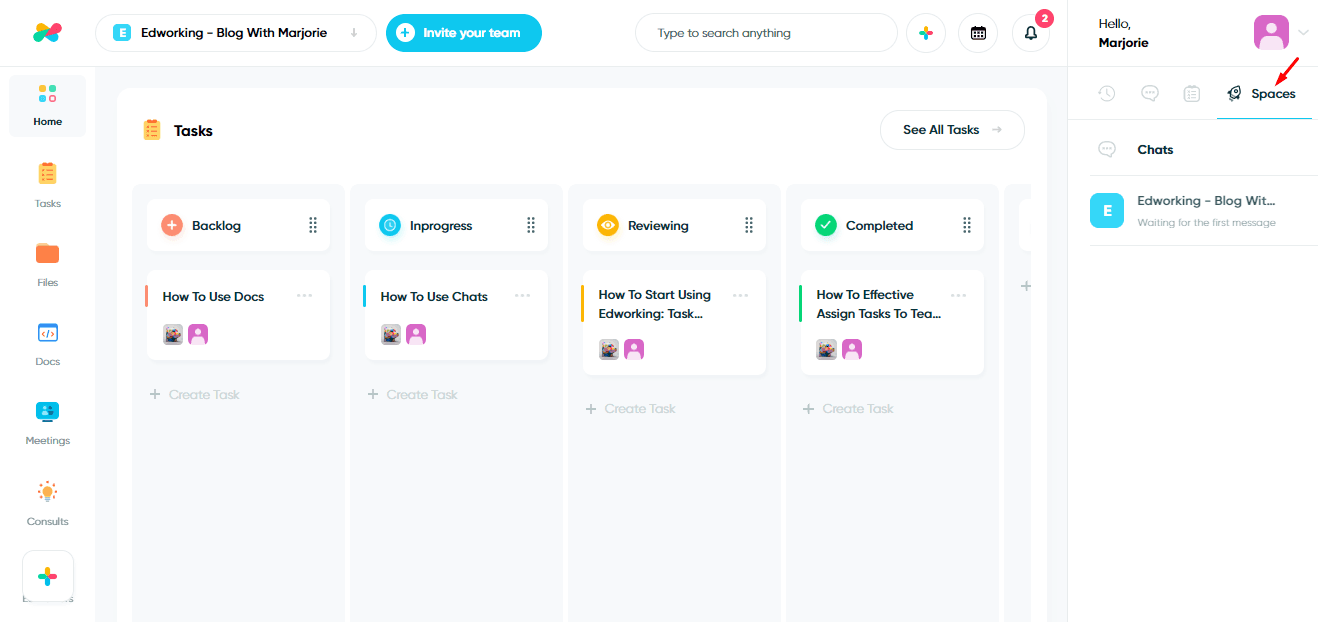 Integrated Video Calls, Media and Stories
Video call your team member or the entire team in just one click. When you open each conversation, you can see a video recorder icon on the top right. Simply click it to begin video calling.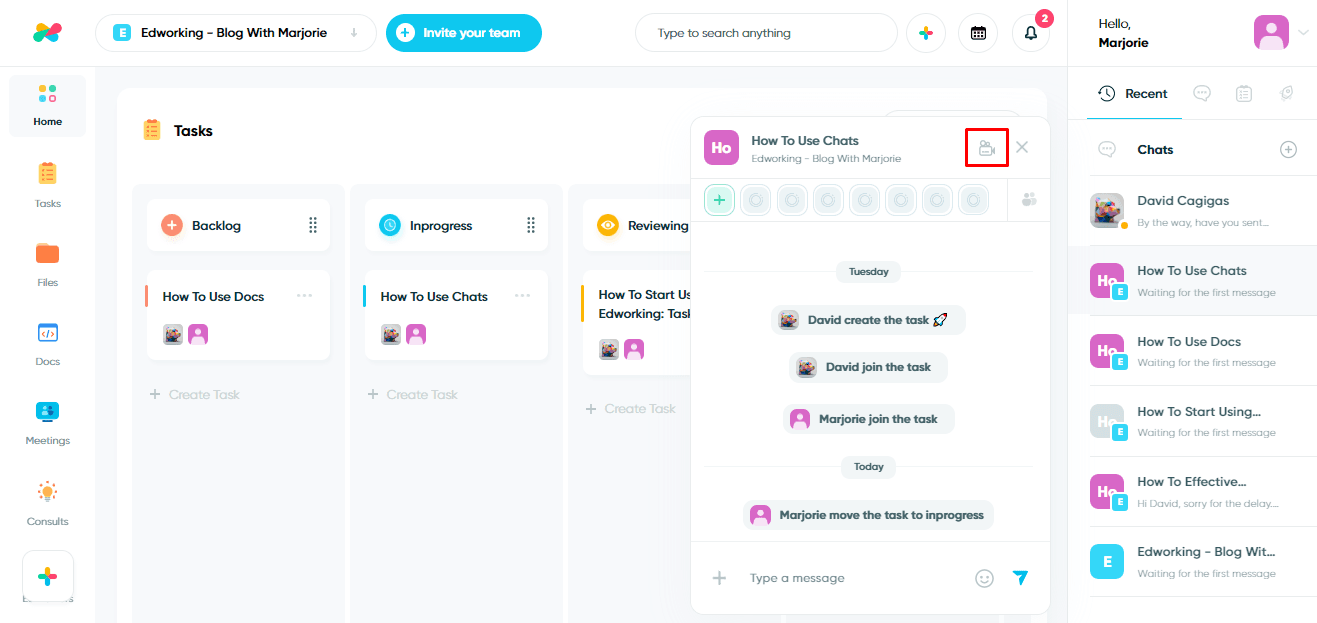 If you want to discuss the task and screenshare, no need for Zoom or Meet, Edworking has it all. When the call begins, simple click the first icon that has an arrow pointing to the top right. That icon means screensharing.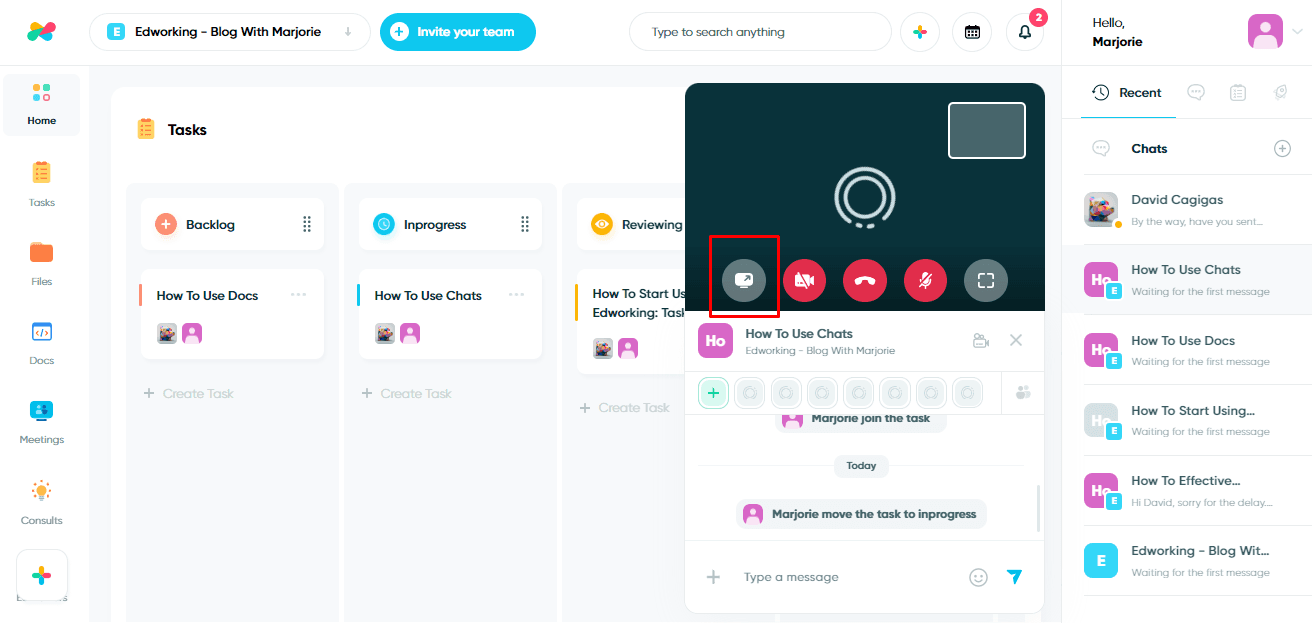 Additionally, you can choose to share your entire screen, window, or the browser.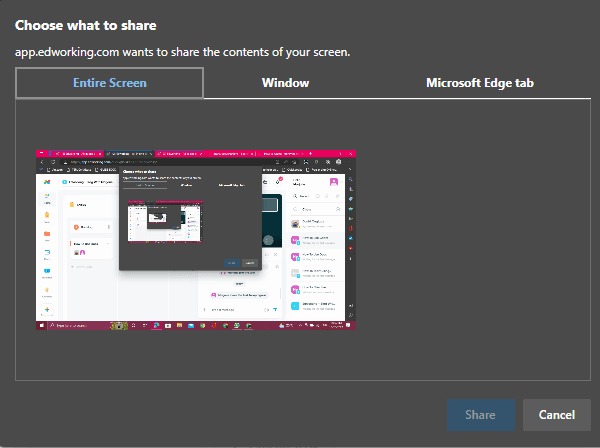 If you just want to add media and other files, simply click the + button when you open the conversation.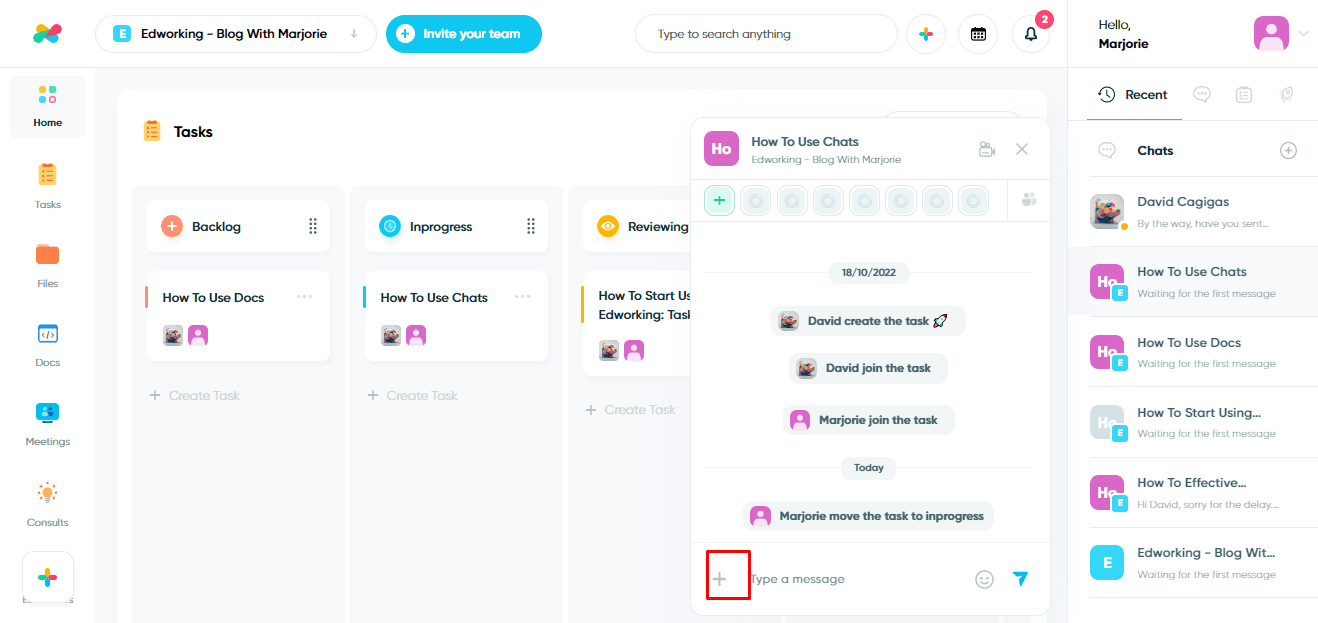 Hide or open Private Messages
Sometimes, we want to hide important and confidential messages to organize our conversation list of private contacts. Simply click the three dots and choose to hide.
Meeting Room Chats
Sometimes, we do not want to get interrupted while having meetings. The Meeting Rom Chats will enable you to ask questions without opening your mic, so you"ll have a smooth meeting with your team.
Stories
Let your team know what you"re currently up to by adding stories. To do this, simply click the + button located on the top left of the conversation tab. When you add stories, all members can see them on top of the chat.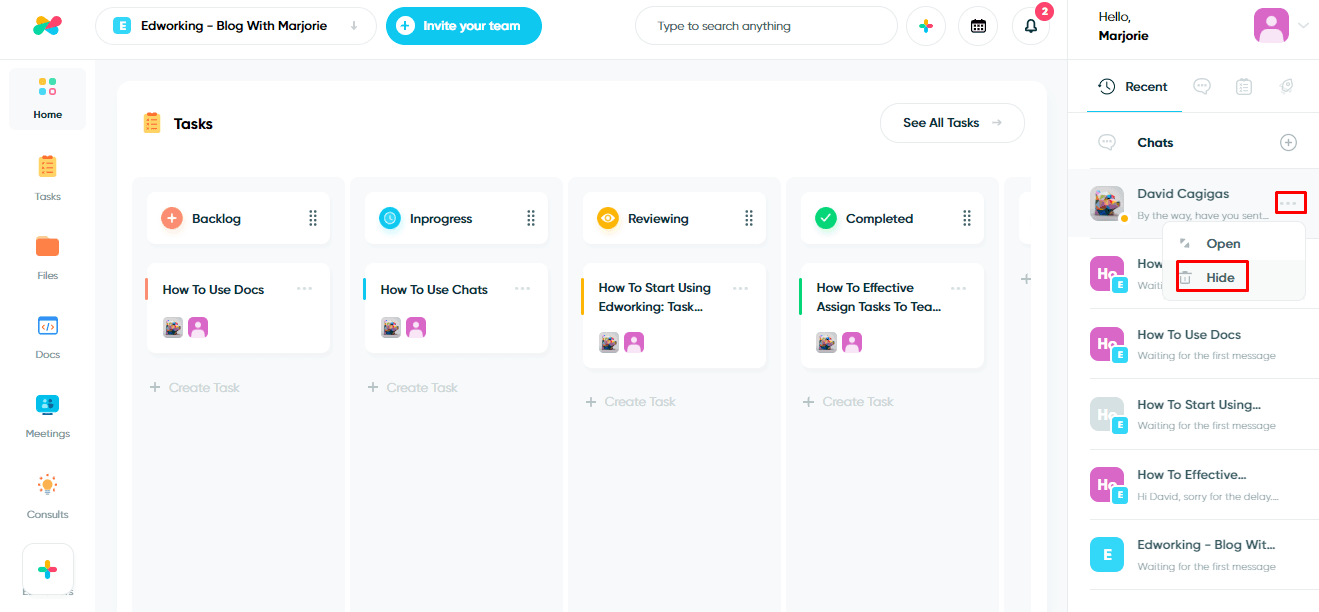 Tips
You can hide unimportant private chats to keep your messaging list organized.
If you"ve assigned multiple users in one task, send a message to the group instead of messaging each user one by one.
Utilize Edworking to conduct meetings in discussing the project or task to keep all members notified instead of sending Zoom or Meet links.
Do more with Edworking and achieve your project management goals.